Easy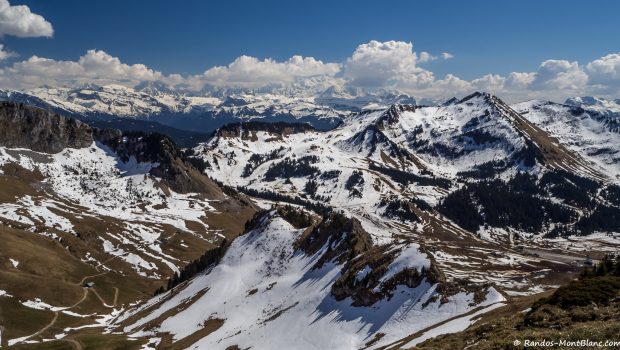 Haute Pointe
Must-see for the regulars of the resort of Sommand, the Haute Pointe is a walk readily available by a trail that goes up the mountain pastures of Sommand and gives the hiker the opportunity to discover a very broad number of peaks of Haute-Savoie. On the menu, a view of Pointe de la Gay, Dent d'Oche, Roc d'enfer, Pointe de Chalune, the Mont Blanc Massif, the Môle, Brasses and the Salève.
Note that the itinerary is also feasible in winter with snowshoes; this pathway is very similar to the path taken in the summer, except that one can cut and take a more direct trace towards the Col de Chavan that the less courageous or less trained will be able to define as an objective as the panorama there is already superb.
Beware, however, of snow conditions on slopes exposed to avalanches.

Difficulty: Easy
Altitude: 1,958 m
Ascent: 1 hour 0 min
Descent: 1 hour 20 min
Elevation Gain: 490 meters
Round-trip: 6.4 km
Map: IGN 3429 ET
Restrictions : Dogs prohibited (even on a leash)
Getting There
From Annemasse, take the direction of Taninges – Samoëns. At Mieussy, turn left at the roundabout in the direction of Sommand – Col de la Ramaz. Once arrived at the station, turn left towards the Col de la Ramaz for about 1.5 km until the small car park of Montée au Coin.
GPS Coordinates (WGS 84) of the Starting Point: 46.165101, 6.565112
Ascent
The itinerary begins at the parking lot by the stone road to the first chalets "des Têtes. " After about ten minutes, the Chalets du Coin are in sight and are quickly reached. At the back of the chalet, a signpost signals the Haute Pointe; Do not follow the direction going to the right and take the footpath behind this sign between the wooden stakes in the direction of the Col de Chavan straight ahead.
From there the path becomes steeper to the top. A bifurcation reaches on the left the actual summit of the Haute Pointe indicated by an IGN geographic stone.
Descent
Go down to the Col de Chavan and take the same path as described above.

Photos of Haute Pointe
Route
Download the route (KML) Download the route (GPX)
This post is also available in Français