Easy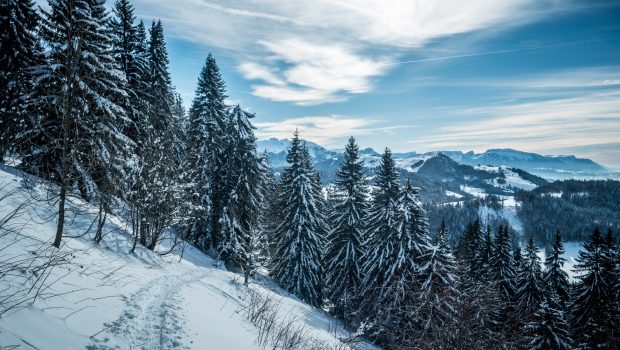 Pointe de Miribel (via Les Granges)
Located in the heart of the Vallée Verte in Chablais Massif, Pointe de Miribel is an ideal objective for an initiation to winter hiking or for training a bit at the beginning of the season. Easily won, the summit provides a magnificent panorama of the alpine pastures and surrounding peaks. The winter route proposed here reaches the summit by the western slope, more conducive to tranquility than the ascent via Plaine-Joux which I describe in the "Very Easy" category.

Difficulty: Easy
Altitude: 1,581 m
Ascent: 1 hour 30 min
Descent: 1 hour 00 min
Elevation Gain: 490 meters
Round-trip: 5.1 km
Map: IGN 3429 ET
Getting There
The departure is situated in the hamlet of "Les Granges." From Annemasse, take the direction of Taninges and turn left at Pont-de-Fillinges towards the Vallée Verte. Continue until Boëge and follow the direction of Villard where you will have to turn right in the direction of Ajon and pass in front of the church. Continue to the terminus of Les Granges. The path begins on the left of the telephone relay.
GPS Coordinates (WGS 84) of the Starting Point: 46.215781, 6.456187
Ascent
Take the path that gets into the forest to the left of the antenna. After about five minutes' walk, turn left to follow the path indicated by the yellow arrow. Further on, you arrive at the Chalets du Replan which you have to pass to turn left on the road, then right again to reach another chalet where you will follow the sign indicating the summit and inviting to enter the wood. After a little steep climb, one gets to the Tête des Cudres which already offers a beautiful panorama over the valley.
After a few minutes, Pointe de Miribel is visible. In winter, it is preferable to follow it along the base and to follow the trail which bypasses it by the right as it's less steep for the snowshoe walkers.
Descent
Take the same path as previously described.

Photos of Pointe de Miribel (via Les Granges)
Route
Download the route (KML) Download the route (GPX)
This post is also available in Français