Hiking Tips
You'll find on this page various tips and pieces of information that will allow you to hike with pleasure and security. Why ? For the simple and good reason that if hiking is the best way to discover the mountain, it nevertheless requires the respect of some basic rules. One does not walk in the mountains as one moves in the city or in the plain. The mountain is a magnificent environment that requires some attention, and which can prove dangerous under certain conditions: steep and slippery grassy slopes, frozen névés, fog, etc.
Gear | Markings and Sense of Direction | Safety | Food | First-Aid Kit
1) Gear
1.1) Shoes and socks
Having good shoes is undoubtedly the number one rule for hiking with pleasure.




When I published this page for the first time in the early 2000s, I advocated high-rise shoes that were stiff enough to avoid sprains or other plantar discomforts. Nevertheless, since the appearance in the middle of the decade of trail running shoes as well as "minimalist" shoes, the choice is no longer exclusively centered on the former. Today, it is quite possible to hike lightly while combining pleasure and safety. Yet, the collective imagination renews and perpetuates incessantly the cliché of the walker equipped with big shoes and the good old packed backpack, leading, therefore, many beginners or occasional hikers to buy a heavy equipment. From there follows some bad experiences and pain the day after an outing. This absolutely does not mean that you can hike with sandals or city shoes that are absolutely not designed for this purpose!
The small weight and the low upper of trail running shoes represent an undeniable advantage, especially when it is necessary to remove them to cross a stream. Screes, snow or mud aren't a problem whatsoever for these shoes that are planned for this kind of hybrid terrain.
In the same way, "minimalist" shoes adapted for trail running (Merrell Barefoot Run Trail Glove or FiveFingers Spyridon LS for example) also do the job: equipped with a light and flexible sole without any "drop" (no difference in height between the tip and the heel), these shoes provide new sensations to the hiker and allow to free themselves from the constraints of a "classic" shoe. However, I can not advise them to regulars of traditional shoes: such shoes require a re-learning of the stride and a smooth transition is essential if you want to taste the joys of minimalism.
Walking barefoot is another alternative if your feet support the mountain trails. For my part, I am not a fan of this mountain practice (feet too sensitive), but in the countryside, forest, or even asphalt, it is a real pleasure.
Personally, as soon as I started trail running in 2009, I used to wear a pair of Saucony ProGrid Xodus 3.0 for walking and running. However, five years later, my recurrent back and calf pains forced me to test the minimalist pathway; The test was, I must say, totally conclusive: since I bought my Merrell Barefoot Run Trail Glove, it's stopped aching. Besides, my sensations have improved with a feeling under my feet that was hitherto unknown to me.
In any case, do not hesitate to try: the essential is to choose the pair that will suit your morphology and your stride. Shoes that cause pain are bad sign; There is nothing worse than a hike punctuated by violent pain in the feet or higher 😉
If you choose a pair of high-top shoes, hiking socks (nowadays in polyester) are recommended to avoid rubbing. In the case of trail running shoes, it is better to buy running socks because they contain specific fibers (polyamide) that prevent frictions (and therefore blisters), rather than simple wool socks.
1.2) Rucksack and Accessories
Choosing the right backpack is important for your comfort. As I said before, if you only want to go for a day or two, you do not need to buy a huge backpack as you can see all too often on the road. Since the equipment has evolved greatly, it is possible to put everything in a lightweight backpack.
For juniors, a volume of 10 liters is sufficient; The adults will choose a capacity up to 30 liters for a day trip. Personally, I use a bag of 20 liters (Quechua Diosaz 20 Team) and I can put all the equipment while remaining light.
It should contain:
– a water flask (some add lemon juice) or a Camelbak of at least 0.5 l;
– food (I detail this point below);
– an anorak;
– a fleece or equivalent;
– binoculars (optional, for observing wildlife);
– a map (or a photocopy of the concerned excerpt) or a GPS watch;
– a whistle (in case of fog);
– survival blanket;
– a compass (optional if you do not know how to use it!);
– a first-aid kit (also specified below);
– and a plastic bag to bring back all waste and various packaging in the valley.
The bags with only one handle are to be excluded: the load is badly distributed, which is bad for the back. Light objects must fill the space around the heavy objects, which will be placed near the back, gradually upward. All items that have to be handy will be stored in the top pouch of the bag flap. Adjust the straps so that it is not too loose or too tight on the shoulders.
It's useless to carry too much weight! Before going hiking, empty the backpack on a table or on the floor and evaluate what is useful and what it is not. It is a hike, not a trek or an expedition over several days 😉
As for the accessories, the sunglasses remain indispensable, even when the sky is overcast. For children, a cap (preferably white, for reverberation) is not too much, especially when the sun strikes the south-exposed slopes.
2) Markings and Sense of Direction
It's essential to be able to get your bearings without difficulty, that is to say, to find one's way and to know and "understand" the environment in which one evolves; In short, to know at any moment where one is located and how to reach a given destination.
It is essential to use the map extracts available for each itinerary described on the site. The reference of the map is indicated, as well as the track. KML files (created with Google Earth) associated with each hike are also helpful as they allow visualization of the path in a 3D environment and provide accurate data for the round trip distance and the cumulative positive and negative elevation.
In the field, the trail follows markings that can be explained using the following pictograms: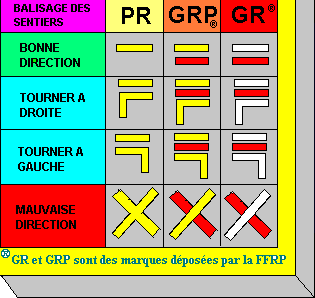 Direction and time signs, as well as cairns (small mounds made of rocks), will complement the aforementioned pictograms. However, some uncrowded walks are immaculate of any explicit markup: most of the time, the path seems obvious, since relatively well traced and staked by cairns. In any case, verifying one's position on the map is a good way to ensure the accuracy of the direction. In case of difficult weather conditions (sudden fog for example), the compass can be an invaluable support.
3) Safety
Check the weather before hiking. As for the Haute-Savoie, you can check Chamonix's weather forecast as it's accurate.




Mountain storms are relatively common in summer. They are also more surprising, more violent and more dangerous than in plain. The storm is generally announced by gusts of wind with very intense ascending air masses. It is accompanied by heavy showers of rain, snow or hail, as well as cold. The turbulence created by the cumulonimbus cloud, generating storms, can be felt up to more than 20 km from it. Lightning is a major danger: it is very difficult, in case of impact on the ground, to escape the risk, and the chances of survival when one has been touched are minute.
3.1) What to do in case of storms
– Avoid the ridges. If one is surprised on a summit, descend as low and as quickly as possible by abstaining from walking on the ridges of the mountain;
– Keep away from any metal parts (ice axes, crampons, carabiners, pitons, telescopic sticks, etc.);
– Do not park under trees and rocks especially when they are isolated, under the overhangs or under all that can be conductive (water that runs along a wall);
– Sit on the ground as the lightning is attracted by vertical elements (a tree, a peak, or a standing man). Do not lie or lean against a wall;
– Insulate yourself as much as possible from rock or the ground by means of any insulating material: rope roller, sleeping bag or backpack whose frame is laid on the ground; It is preferable that these objects are dry.
3.2) Other elementary precautions:
– Do not go out randomly of a marked path without a perfect knowledge of the terrain: risks of rock bars, cliffs, holes, crevasses;
– Provide a piece of rope to ensure kids and people who are afraid of heights in some tricky passages. These are indicated on the route cards. In case of doubt, I can always send another route card and send it to you by mail;
– Although the descent seems to be easier, do not neglect the fatigue accumulated throughout the day, and accordingly, foresee breaks as on the climb.
4) Food
Provide for hiking a diet composed of:
– Dried fruit;
– cereal bars;
– cookies ;
– chocolate.
Do not neglect to carry enough water (minimum 0,5 l), especially in summer when it is hot. In the evening, the day before the hike, you can eat a meal made up of slow sugars like pasta or rice.
Usually, prefer the top for the snack break as you can feel heavier after eating and more reluctant to resume climbing.
Drink little, but regularly. As for the long hikes, I indicate troughs or fountains available in order to fill in flasks.
Do not forget to pick up all the rubbish and miscellaneous waste, and put them in a plastic bag so that you can throw them away down in the valley.
5) First-Aid Kit
The first-aid kit is an indispensable component. It must include a minimum of necessary elements. Be careful, it is not a traveling pharmacy! This must include at least:
– sterile compresses;
– a compression band (Velpeau band);
– an extensible adhesive tape (strapping);
– a bag of adhesive sutures (strip);
– individual dressings;
– hydrocolloid dressings in prevention and protection of blisters (Compeed);
– an antiseptic and healing cream;
– tweezers;
– sun protection products (skin and lips) with a high index = 15;
– aspirin 500 mg or Paracetamol – chewable tablets;
– mint alcohol and sugars in case of fatigue;
– survival blanket;
– compressive dressings.
The list seems impressive at first, but occupies in practice only a small place in the backpack 😉
This post is also available in Français