Hard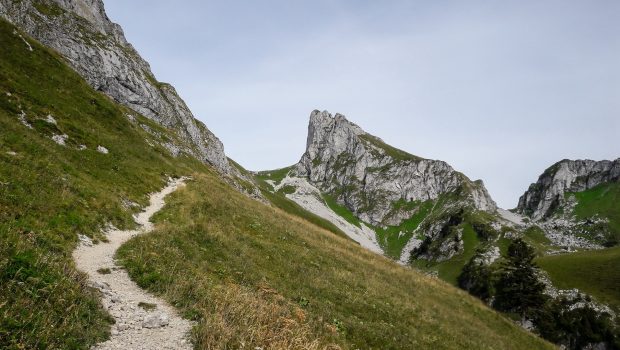 Dent d'Oche
Located in the heart of the Pays de Gavot, Dent d'Oche, overlooking Lake Geneva, offers a surprisingly rich hiking objective. During the ascent, the trail changes rapidly through the alpine pastures, as it goes up amidst rocks from the refuge. The itinerary describes a loop starting from the Chalets d'Oche where the ibexes keep company with the hikers. The last part of the ascent is equipped with chains and cables to pass through the chimney and the vertiginous ridge.

Difficulty: Hard
Altitude: 2,221 m
Ascent: 3 hours 20 min
Descent: 2 hours 10 min
Elevation Gain: 910 meters
Round-trip: 9.3 km
Map: IGN 3528 ET
Getting There
In Thonon, take the N5 road towards Publier – Bernex. Follow the road to Bernex, then turn left towards "Dent d'Oche" and continue to the parking lot of the restaurant "La Fétiuère."
GPS Coordinates (WGS 84) of the Starting Point: 46.345843, 6.708117
Ascent
In the car park, two paths are possible: in wet weather, the left one is advised. The trail goes up smoothly to the Chalets d'Oche reached in fifty minutes. After a quick pause, the pathway turns left and climbs in a meadow by wide switchbacks. After a bifurcation going towards the Col de Rebollion on the left, one arrives at the passage of the chimney equipped with chains. There's no problem whatsoever except in wet weather, as the rock can be very slippery.
The Refuge de la Dent d'Oche (Tel: +33 4 50 73 62 45) is reached after a few short switchbacks. After crossing a slab equipped with chains, the path snakes on the final vertiginous ridge to win the cross of the summit.
Descent
Continue the track that descends on the other side, and cross another exposed slab, but well equipped with cables. The ibexes are present throughout the descent and are easily accessible. The trail, quite steep in some places, rapidly loses steepness up to the Planchamp pass. A detour by a path on the left leads to the Lac de la Case. The Portes d'Oche, 30 minutes away, offer a breathtaking view of Lac de Darbon. Get back to the Chalets of Oche where good cheeses can be bought. Then proceed to the parking lot.

Photos of Dent d'Oche
Route
Download the route (KML) Download the route (GPX)
This post is also available in Français