Easy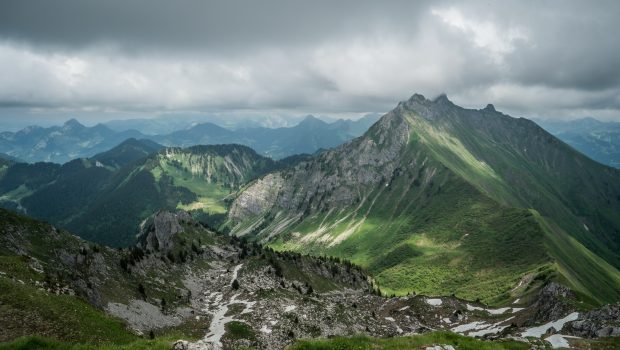 Pointe de Chalune
Pointe de Chalune is a regular family walk that will allow one to discover the summits of the Chablais from a considerable altitude while remaining accessible to the greatest number.
It is also a superb hike in winter in snowshoes or skis; The route is essentially the same as the one in summer, but the difficulty increases markedly according to the snow conditions. Be careful to learn about the dangers of an avalanche before starting the climb: the slopes along the route are south-oriented, and the snowfalls are very frequent.

Difficulty: Easy
Altitude: 2,116 m
Ascent: 1 hour 50 min
Descent: 1 hour 20 min
Elevation Gain: 580 meters
Round-trip: 6.6 km
Map: IGN 3429 ET
Getting There
Reach the ski resort of Sommand then take the road going to Col de la Ramaz. Park in front of the Pierre Rouge chairlift.
GPS Coordinates (WGS 84) of the Starting Point: 46.162784, 6.571502
Ascent
From the car park, take the path that leads to the Chalet Blanc and its great mountain pasture where the cows and the sheep graze in peace.
After the chalet, take the steepest slope on the left. After a zigzag, continue the trail that leads to the Col de Chalune. From there, one discovers a breathtaking point of view of Roc d'Enfer and many surrounding summits. Follow the sign that says "Pointe de Chalune 45 min"; The road is less steep than at the beginning.
Once arrived at Pointe de Chalune, one can admire a remarkable panorama on Lake Geneva and most of the peaks of Chablais. One can also see the Lac de Roy in the distance, which one can reach after the descent.
Descent
The descent uses the same road as described above. Pay attention to the beginning of the descent which is quite treacherous.
Photos of Pointe de Chalune
Route
Download the route (KML) Download the route (GPX)
This post is also available in Français