Easy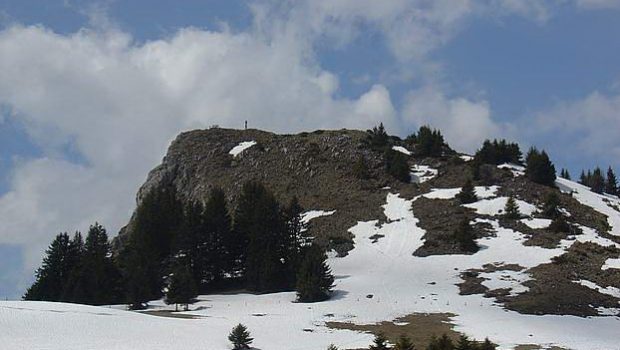 Sur la Pointe (or Rochers de la Motte)
Situated opposite Pointe de la Gay, this summit named Sur la Pointe is a hiking destination within easy reach of everyone, and is ideal for a nice family outing.
The summit of Sur la Pointe offers a beautiful panorama on Lake Geneva, the Roc d'Enfer and the pastures of Chablais, and overlooks the Lac Vallon, which deserves a stop on the way back.

Difficulty: Easy
Altitude: 1,657 m
Ascent: 1 hour 30 min
Descent: 1 hour 00 min
Elevation Gain: 340 meters
Round-trip: 4.2 km
Map: IGN 3429 ET
Getting There
From Annemasse, take the direction of Samoëns to the center of St-Jeoire, then turn left towards Thonon-Onion (D26 road). Go past Onion then Mégevette and continue towards Thonon until you reach a fork to the right towards La Chèvrerie and Lac de Vallon (D236 road). After about 3.8 km, after passing the localities of La Clusaz and Le Cerny, turn left on a small road in bad condition towards La Haute Meille – le Platon.
Continue this road to the place called Haute-Meille, and park in the small parking lot. In case of affluence, another car park is available in Basse Meille.
GPS Coordinates (WGS 84) of the Starting Point : 46.228681, 6.554057
Ascent
From the hamlet, take the footpath in the direction of Tré le Saix and stay on the right at the junction located at about 250 m from the start.
Proceed to the Chalets of Tré le Saix. Sur la Pointe is clearly visible on the left with its Christ statue. Continue on the trail that bypasses the peak and becomes steeper. A final effort will lead without difficulty to the top materialized by an IGN geographic stone, a large cross, and the statue.
Descent
Take the same route as depicted above.

Photos of Sur la Pointe (or Rochers de la Motte)
Route
Download the route (KML) Download the route (GPX)
This post is also available in Français