Intermediate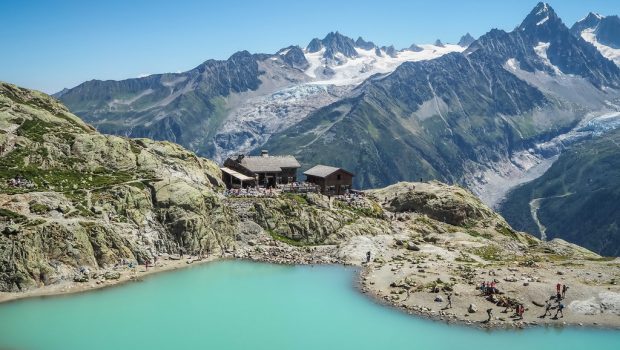 Lac Blanc
Lac Blanc is one of the greatest classics of the Chamonix Valley that will make hikers discover a grand panorama of the beauty of high mountains. The itinerary I propose describes a loop that leads from Lac Blanc to Lacs des Chéserys. For those who would like to see a more rural route, I recommend this alternative route: Lac Blanc by the Col des Montets or Tré-le-Champ.

Difficulty: Intermediate
Altitude: 2,352 m
Ascent: 1 hour 45 min
Descent: 2 hours 45 min via Lacs des Chéserys
Elevation Gain: 570 meters via the cable car / 1,560 m without taking the cable car
Round-trip: 7.8 km via the cable car / 12.3 km without taking the cable car
Map: IGN 3530 ET
Restrictions : Dogs (even on a leash) and gathering prohibited. Bivouac allowed between 7 p.m. and 9 a.m.
Getting There
The departure is located at the parking lot of Flégère's cable car, in Praz de Chamonix.
Fares and Timetables of the Flégère and Brévent's cable cars.
GPS Coordinates (WGS 84) of the Starting Point: 45.941409, 6.885417
Ascent
I strongly advise taking Flégère's cable car as it avoids two hours and a half of ascension on a path without any interest. At the arrival station of the cable car, follow the "Lac Blanc" path and leave on the right the trail that will lead to Lacs des Chéserys on the return journey. After a short descent, the trail gets much steeper immediately in the direction of an escarpment that one passes without any problem. Throughout the route, you can admire all the glaciers of the Mont Blanc Massif such as Glacier du Tour, Argentière Glacier, Grands Montets Glacier, Mer de Glace, Bossons Glacier and even Taconnaz Glacier, as well as well-known summits like Mont Blanc itself, Drus, Grandes Jorrasses, Aiguille Verte, and many others that will leave unforgettable memories. The path is rather steep in places, but never dangerous; Children can use their hands to pass the highest steps. The periphery of Lac Blanc facing the Aiguilles Rouges is the ideal location for a break.
Descent
Take the trail situated behind the refuge in the direction of Lacs des Chéserys about 45 minutes away; The descent is quite steep but well equipped (carved steps and logs of wood). At the approach of the Lacs des Chéserys, the last difficulty is conquered by metal ladders within everyone's reach. After the Lacs des Chéserys follow the trail towards La Flégère up to the arrival station of the cable car. To get to the parking lot, I propose to take the path that first descends for a hundred meters under the cable car, then to fork along the "Sentier des Gardes" which leads through the forest to the "Bois du Paradis. " Finally, follow the Arve river and the golf to reach the car park of the cable car.¨

Photos of Lac Blanc
Route
Download the route (KML) Download the route (GPX)
This post is also available in Français