Intermediate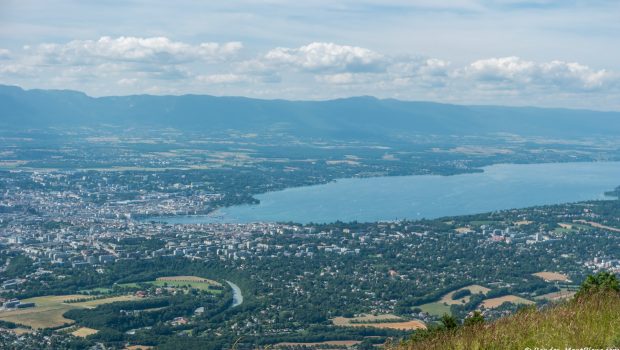 The Salève
The Salève undoubtedly remains one of the most famous mountains in Haute-Savoie. Overlooking Geneva area, the Salève offers the hiker an exceptional panorama on most of the surrounding Massifs. In summer, the Salève is the ideal place for paragliding and climbing. The Orjobet trail is one of the many access paths from the bottom and allows discovering great perspectives along the route. The hike ranks among "Intermediate" hikes because of the numerous passages exposed to heights which, without being difficult, requires caution, in particular for youngsters. For hikers in quest of a harder outing, I suggest an alternative path starting at Etrembières.

Difficulty: Intermediate
Altitude: 1,277 m
Ascent: 1 hour 45 min
Descent: 1 hour 00 min
Elevation Gain: 730 meters
Round-trip: 6.7 km
Map: IGN 3430 OT
Getting There
From Annemasse, go to Collonges-sous-Salève, then take the road to La Croisette and park in the hamlet of "Le Coin."
GPS Coordinates (WGS 84) of the Starting Point: 46.132123, 6.157004
Ascent
Take the path on the left that starts at Le Coin's car park. After a hundred meters, on the left, a first sign shows the different possible routes; take the steeper one winding in the forest. Soon, one reaches the first passages where youngsters have to be careful as the climb becomes more and more abrupt. Fortunately, the cables make the ascent smoother. The path arrives then to the footbridge of Orjobet that allows entering the cave. The trail is less steep as it reaches an intersection where one has to turn left in the direction of "La Corraterie." After about ten minutes, a path on the right goes towards the cliff where many climbers satiate their passion: it is the ideal place for a small break, in front of the Jura Massif. From there, two solutions are possible: either continue along the cliff climbing to reach the summit, or retrace one's steps and follow the path to get to the top of the "Trou de la Tine" crossed by a vertiginous passage, but without danger. From here, the summit is only a few minutes' walk away.
Descent
Take the same path as depicted above.

Photos of The Salève
Route
Download the route (KML) Download the route (GPX)
This post is also available in Français