Easy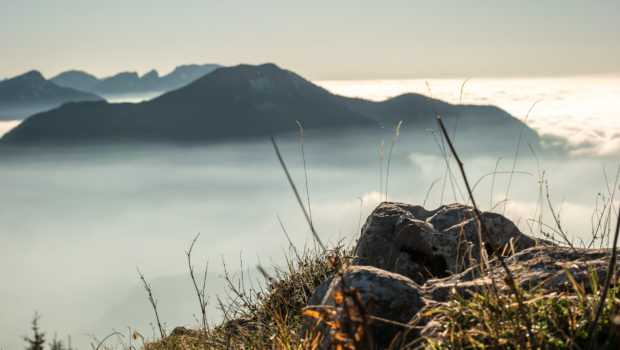 Pointe de Rovagne
Visible from the resort of Sommand, Pointe de Rovagne, whose toponym refers to a ravine or scree1, is one of those rarely visited peaks that offer an admirable view of Haute-Savoie. Indeed, very close to the Haute-Pointe, facing Pointe Perret, this rather wild and little traced hike at the end of the itinerary gives the right to discover a fauna often present, such as chamois or ibex. Easy until the Col de Cordon, the path joining the top of the Pointe de Rovagne is complicated a little later because of its steepness and the absence of way-marking. Even if there are no exposed passages on the route, care must be taken in wet weather, as the trail can be very slippery. Pointe de Rovagne offers a peaceful moment of contemplation of the surroundings.
Difficulty: Easy
Altitude: 1,795 m
Ascent: 1 hour 15 min
Descent: 1 hour 00 min
Elevation Gain: 340 meters
Round-trip: 3.8 km
Map: IGN 3429 ET
Restrictions : Dogs tolerated on a leash only
Getting There
Reach the Sommand resort located at the top of Mieussy. Two options are available for parking: either on the resort's large parking lot or on the Chalets de la Mary car park located to the left of the road leading up to Col de la Ramaz. The trail starts at the end of the parking lot.
GPS Coordinates (WGS 84) of the Starting Point: 46.164663, 6.551779
Ascent
The path starts at the small car park in front of the three chalets of La Mary. The trail follows a long right-hand curve leading to the chalet de Vanne. Shortly before this chalet, turn left as indicated by the yellow arrow to take the left path that rises while skirting the edge of the woods on the right. A few meters further on, a new yellow arrow invites you to turn left. The trace sinks into the forest and becomes a little flattened. A few minutes later, one reaches a combe at the foot of the col de Cordon which can be reached in about ten minutes after a somewhat sustained effort. Do not continue to the right towards the signpost indicating the Col de Cordon, but take on the left the badly marked track that climbs in the wood. In some places, you have to sneak between the trees. Continue on the path towards a heap of rocks that you will have to cross to reach a small hill. Then head towards the ridge and advance to the top of Pointe de Rovagne.
Descent
Take the same route as described above, but make sure you follow the same trail: this trail is more difficult to follow when going down.

Photos of Pointe de Rovagne
Route
Download the route (KML) Download the route (GPX)
Buord, Jean-Philippe. Origin of the names of the mountains of Haute-Savoie. Annecy : Color Verba Edition, 2015, p.326 ↵
This post is also available in Français