Easy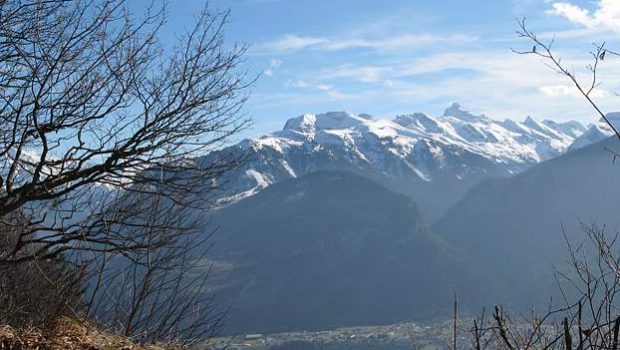 Mont Orchez
With Montagne de Chevran, Mont Orchez constitutes a superb belvedere on the Valley of the Arve facing the Môle and the Bargy Massif.
Without any difficulty, the path gets through a beautiful forest by a sometimes very steep path. In wet weather, the descent can be very slippery.
A good sense of direction is necessary because of the bad markings of the trail in places, especially when lumberjacks cut trees; Fortunately, a dog served us as a guide to reach the summit.
Vigilance is essential when arriving at the top as the trail leads to the edge of the cliff overlooking the valley.

Difficulty: Easy
Altitude: 1,347 m
Ascent: 1 hour 30 min
Descent: 1 hour 00 min
Elevation Gain: 470 meters
Round-trip: 3.4 km
Map: IGN 3429 ET
Getting There
From Taninges, join the Col de Châtillon-sur-Cluses and turn right towards Larroz. Continue to the terminus and park in one of the small car parks.
GPS Coordinates (WGS 84) of the Starting Point : 46.091339, 6.561381
Ascent
From Larroz, continue to the end of the paved road and follow the small walkway along the last chalet to the left (a chain delimits the trail).
Then follow the path that enters the forest. After about twenty minutes, you will see on the right a pathway leading to the Chapelle-Saint-Innocent.
At a crossing, turn right and follow the trail to the top of Mont Orchez.
Descent
Take the same road and take a little detour through the Chapelle-Saint-Innocent, which deserves a stop.

Photos of Mont Orchez
Route
Download the route (KML) Download the route (GPX)
This post is also available in Français