Intermediate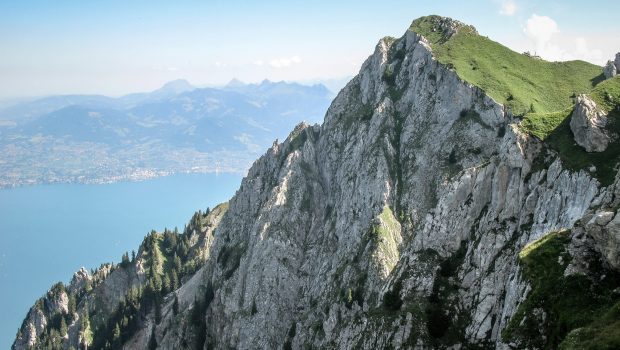 Le Grammont
Located at the end of Lake Geneva in the heart of Chablais, Le Grammont is part of these walks whose memory remains forever in your mind, as the landscapes are grandiose. Passing first by the picturesque Lac de Taney, the route then rises towards the Col des Crosses and Le Grammont ridge offering a splendid view overlooking Lake Geneva. The footpath finally reaches the summit where hikers can observe the Jura and the Chablais Massif, the Rhone Valley, Grand Combin, Haut-Giffre as well as the Mont Blanc Massif.
Despite a seemingly sustained elevation gain, the hike is classified among "Intermediate" hikes, as apart from the absence of difficult passages, the elevation profile stays regular: there are no very steep portions.

Difficulty: Intermediate
Altitude: 2,172 m
Ascent: 3 hours 00 min
Descent: 2 hour 00 min
Elevation Gain: 1,200 meters
Round-trip: 13.6 km
Getting There
Take the D1005 road (ex RN5) to Evian and then Saint Gingolph. Continue along the Route Cantonale 21 in the direction of Vouvry. Drive to Miex and park in the large paying car park (1 CHF per hour in October 2022) at the end of the road at "Le Flon".
GPS Coordinates (WGS 84) of the Starting Point: 46.338396, 6.848895
Ascent
Take the right-hand path at the end of the car park, which climbs steeply through the forest and intersects the tarmac road several times. The ascent continues with short, sharp switchbacks before returning to the road for 200 m to reach the Col de Tanay and then the lake after a short descent.
From the chalets-restaurants, follow the path indicated by a sign "Le Grammont" and winding through the wood by wide switchbacks. It then leaves the forest and reaches the chalet des Crosses where you can already admire the Diablerets and the Cornettes de Bise.
The path later leads to the Col des Crosses under the Grammont before a flat area leading to the bottom of the Grammont ridge. The summit, marked by a cross, is finally reached in about fifteen minutes.
Descent
Descend by the same path.
In order to vary the descent somewhat, once you have reached the Grammont ridge, turn right to follow the clearly visible path that follows the ridge to the altitude mark 2044 m on the map. This alternative route offers no difficulty, as the path is well marked and far from the ridge. You can see part of the Lac de Lovenex as well as the Château d'Oche.
Continue towards the sheepfold located at the altitude of 2001 m on the map. A few metres further on you will find the path you took on the way up.
Photos of Le Grammont
Route
Download the paper route (PDF) Download the route (KML) Download the route (GPX)
This post is also available in Français