Hard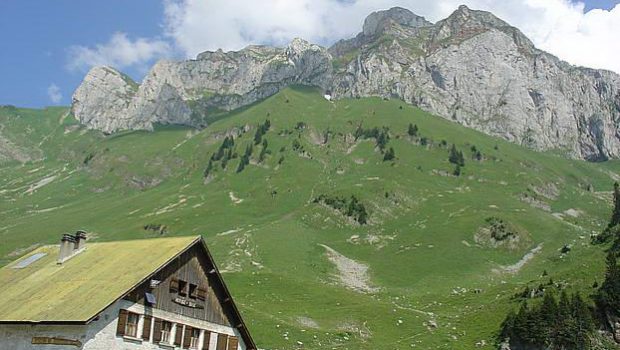 Cornettes de Bise
The Cornettes de Bise offers a beautiful panorama but requires a real effort to reach its summit.
The hike is challenging because of the length of the course, the substantial gain and a long, very steep passage somewhat exhausting for the legs.
Many exposed passages require great vigilance.
The itinerary describes a loop that passes through Swiss peaks and allows discovering the Cornettes de Bise Massif.

Difficulty: Hard
Altitude: 2,432 m
Route: 5 hours 30 min
Elevation Gain: 1010 meters
Round-trip: 9.9 km
Getting There
From Thonon-les-Bains, take the direction of Morzine then the D22 road in the direction of Abondance. Follow the direction of Vacheresse and continue towards the alpine pastures of Bise. Proceed until the end of the road to the parking lot of the Chalets of Bise (1,502 m) located under the Cornettes de Bise.
The starting point is common with Lac Darbon's hike.
GPS Coordinates (WGS 84) of the Starting Point : 46.330565, 6.765584
Ascent
Take the footpath on the left to descend in a lapiaz and reach the Col de Chaudin, which marks the border with Switzerland.
Turn left, and follow the direction of Montagne de Loz. After a turn on the right, the track traverse a combe of rocks, populated by ibexes, to arrive in sight of the Chalets of Loz nested at the foot of Mont Gardy.
The pathway goes left to win the Col d'Ugeon facing the Dent de Vélan after a short ascent.
A little rise allows reaching in a few minutes the base of Dent de Vélan with a very beautiful view of Dent d'Oche and the Lac de Darbon.
Then retrace your steps to the Col d'Ugeon to take the track that leads back to the Chalets de Bise after the beautiful alpine pastures.
Note the sale of cheeses of goat and cow at the Chalets de Bise
Descent
Take the same route as depicted above.

Photos of the Cornettes de Bise
Route
Download the route (KML) Download the route (GPX)
This post is also available in Français