Easy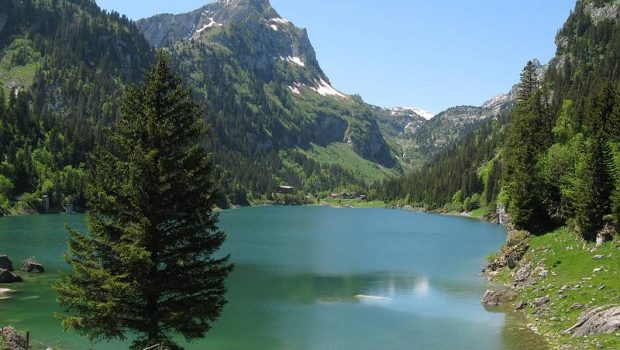 Lac de Taney
Easily accessible, Lac de Taney is a magnificent jewel nestled in the hollow of encircling peaks. Dominated by Grammont and Rocher de La Tache, and surrounded by small chalets, the place is ideal for a family hike where everyone will find its happiness. The elevation gain in the undergrowth is rather steep on a terrain sometimes slippery because of the rain.

Difficulty: Easy
Altitude: 1,408 m
Ascent: 1 hour 00 min
Descent: 0 hour 50 min for the same path / 1 hour 30 min for the loop
Elevation Gain: 470 meters for the same path / 850 m for the loop
Round-trip: 5.2 km for the same path / 9.1 km for the loop
Getting There
Reach Evian then Saint Gingolph by the D 1005 (ex RN 5) road. Continue along the road 21 towards Vouvry. Get to Miex and park in the wide parking lot at the terminus of the road at the locality "Le Flon."
GPS Coordinates (WGS 84) of the Starting Point: 46.338316, 6.848460
Ascent
From the car park, take the path on the right that climbs straight into the forest and cuts many times the paved road.
The ascent continues by little tight switchbacks before returning to the road for 200 m to reach the Col de Taney. The arrival on the lake is magical: one discovers there small wooden chalets lodged between the trees overhanging the lake. Continue the pathway to reach the village and its numerous restaurants. From here, a lot of accommodation options are offered to explore this picturesque place over several days.
You will notice a sign indicating the various walks around, as well as the trail leading to Grammont dominating the valley. A track follows along the lake and goes back to the Col de Taney.
Descent
Either take the same route as described above or choose to make a loop starting at the end of the lake by a footpath that arrives at Miex passing by the Alpe de Prélagine. This trail significantly extends the course but offers magnificent panoramas on the Rhône Valley and Lake Geneva. The path climbs slightly before descending on Prélagine to reach a very steep passable road getting to Miex situated 10 minutes away from the parking lot at Le Flon.
Photos of Lac de Taney
Route
Download the paper route (PDF) Download the route (KML) Download the route (GPX)
This post is also available in Français