Hard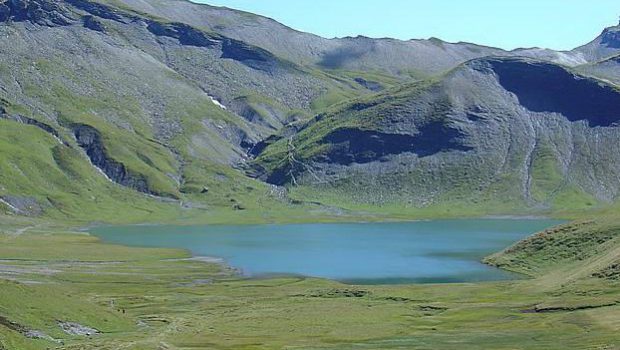 Col and Lac d'Anterne
The outing to Lac and Col d'Anterne constitutes an enjoyable hike. However, this hike is only for trained walkers because the length of the course and the elevation gain are not negligible. The itinerary is reminiscent of the enchantment felt during the trip to the Chalets de Sales: the arrival at Col d'Anterne facing Mont Blanc is a great moment that makes the hiker forget the exertions.

Difficulty: Hard
Altitude: 2,257 m at the Col d'Anterne
Ascent: 3 hours 30 min to get to the Lac d'Anterne + 45 min to reach the Col d'Anterne
Descent: 3 hours 00 min
Elevation Gain: 1,180 meters
Round-trip: 17.3 km
Map: IGN 3530 ET
Restrictions : Dogs (even on a leash) and gathering prohibited. Bivouac allowed between 7 p.m. and 9 a.m.
Getting There
The departure is at Le Lignon. Go to Sixt (6 km after Samoëns), turn right on the bridge towards the Cascade of Rouget, and continue the road to the terminus (chalet restaurant).
GPS Coordinates (WGS 84) of the Starting Point: 46.020976, 6.768192
Ascent
The departure is behind the chalet: you enter the undergrowth by a relatively steep pathway that leads to the Cascade de la Pleureuse and Sauffaz.
Shortly after, the path separates in two: turn left towards the Lac and Col d'Anterne. The trail is narrower and winds to Collet d'Anterne where you really begin to discover the grandeur and beauty of what lies ahead.
A short descent leads to the river that invites you to a well-deserved break. After a few switchbacks, you will arrive at Refuge de Wills. Note the presence of a fountain to refill your flask.
Beware of dogs who do not hesitate to bite if you approach the cottage near the refuge.
After a steep ascent and a small plateau, one discovers, at the bottom of the valley, the sumptuous green-turquoise pearl that is Lac d'Anterne.
It is necessary to bypass it by the left to reach the Col d'Anterne that is already visible nearby. 45 minutes are needed to get to it; From here, the panorama on the Mont Blanc Massif and Lac de Pormenaz is magnificent.
Descent
Take the same path as described above. I advise going round the lake on the left by the other bank so as to see where the overflow of the lake arrives.

Photos of the Col and the Lac d'Anterne
Route
Download the route (KML) Download the route (GPX)
This post is also available in Français