Hard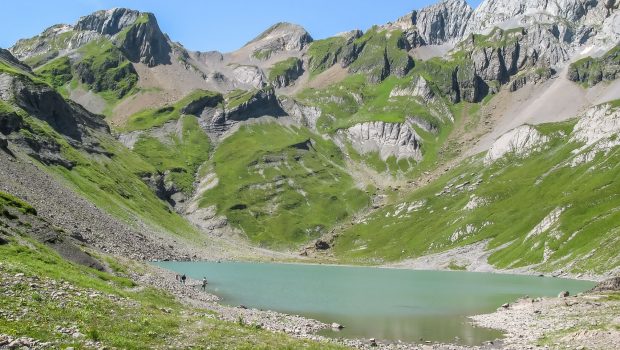 Lac de la Vogealle
Lac de la Vogealle, located just east of Haute-Savoie in the Giffre Massif, is a source of wonder for the hiker. Surrounded by Dents Blanches, this lake offers a magical spectacle on the rare summits of more than 3000 m of the department accessible without mountaineering technique, namely Mont Buet, the Ruan, and Pic de Tenneverge.
To reach it you have to get through the picturesque Cirque du Fer-à-Cheval and its many torrents, most of which are dry in the summer.
This hike is tough because of its steep slope, but above all its length (9.8 km * 2), more than half of which is on a corrie from the car park to Bout du Monde, which can be challenging when going back to the parking lot.
Note that the walk can be done by the Pas du Boret: however, this variant is dangerous and vertiginous.

Difficulty: Hard
Altitude: 2,001 m
Ascent: 3 hours 50 min
Descent: 2 hours 40 min
Elevation Gain: 1,300 meters
Round-trip: 19.7 km
Map: IGN 3530 ET
Restrictions : Dogs (even on a leash) and gathering prohibited. Bivouac allowed between 7 p.m. and 9 a.m.
Getting There
From Samoëns, follow the direction of Sixt-Fer-à-Cheval and park at the end of the road, in the parking lot of the reserve.
GPS Coordinates (WGS 84) of the Starting Point: 46.078123, 6.840470
Ascent
From the car park, follow the well-signposted flat track "Refuge de la Vogealle" taking you to "Fond de la Combe" and then "Bout du Monde."
After this warm-up of more than an hour, the path will rise moderately in the forest and cross a series of dry torrents according to the season to get to the Chalet du Boret.
From there, the ascent becomes more regular. Continue on the trail which now rises in the meadow and, after a flat portion at the "Pierre du Dard," goes up in a rocky chaos. From here, the Refuge de la Vogealle is reached in about forty minutes.
After a last very short ascent to the shelter, you arrive at the "Carrefour du Lac" then the lake on a flat road.
Descent
Take the same path as described above.

Photos of the Lac de la Vogealle
Route
Download the route (KML) Download the route (GPX)
This post is also available in Français