Easy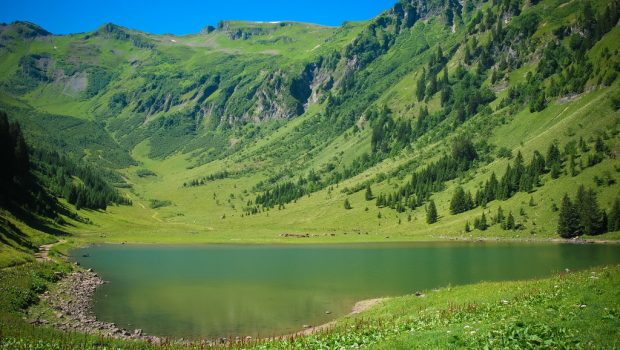 Lac de Gers
Lac de Gers remains one of the countless treasures of the Giffre Massif. From Lac des Chambres to Lac d'Anterne and Lac de la Vogealle, the massif is full of wonders for the noblest pleasure of the hiker. Situated on the other side of the Rocher des Fiz, on the site of the Grand Massif between Samoëns and Flaine, Lac de Gers is an attractive destination for family walks. Easy, the route, starting from the Pont de Lédedian, runs under Pointe de Trapechet on a steep forest trail, finally leading to Lac de Gers's valley located between Grands Vans and Pointe Perfia.

Difficulty: Easy
Altitude: 1,544 m
Ascent: 1 hour 35 min
Descent: 1 hour 00 min
Elevation Gain: 550 meters
Round-trip: 12.2 km
Map: IGN 3530 ET
Getting There
From Samoëns, follow the D 254 road in the direction of Samoëns 1600. After several switchbacks, take the road on the left descending towards the Pont de Lédedian. Park in the wide parking area near the bridge.
GPS Coordinates (WGS 84) of the Starting Point: 46.050351, 6.719023
Ascent
From the car park to the Pont de Lédedian, follow the "Lac de Gers" track. Very quickly, it rises fairly steeply in the forest where most of the ascent takes place. After about an hour, one gets to the Chalets de Porte, under Pointe de Porte, giving to see a beautiful perspective on Mont Buet as well as La Cathédrale. After a new passage in the woods, the trail flattens out and leads to the peaceful meadow of Combe de Gers. The chalets and the lake are reached in about fifteen minutes.
Descent
Take the same route as described above.

Photos of Lac de Gers
Route
Download the route (KML) Download the route (GPX)
This post is also available in Français