Hard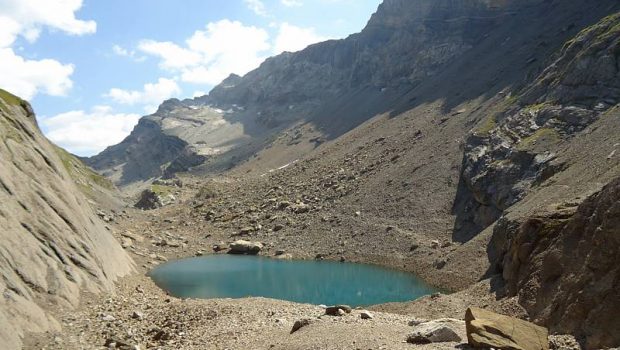 Lac des Chambres
The Lac des Chambres, nestled at the foot of Pointe Rousse and Roches de la Couarra, is the objective of this walk.
Formerly covered with late névé and icebergs, the Lac des Chambres today is a real "observatory" on the direct consequences of global warming.
The Glacier du Folly, located near the lake and under the Avoudrues, has considerably retreated, as have all the glaciers of the Haut Giffre Massif and Haute-Savoie that at the end of this century will probably have disappeared. The mention on the map "Under the snow, all the year" about the trail leading to the Col des Chambress is unfortunately not true anymore.
The panorama offered from the lake is very nice, the latter allowing to scrutinize the Faucigny, the Chablais, and the Bornes Massif.
The route is classified as difficult because of its relatively large drop, but also the short exposed passage on the Dalle du Tuet, which, although secured by chains, requires particular attention, especially with children.

Difficulty: Hard
Altitude: 2,094 m
Ascent: 3 hours 00 min
Descent: 1 hour 50 min
Elevation Gain: 1,180 meters
Round-trip: 10.9 km
Map: IGN 3530 ET
Restrictions : Dogs (even on a leash) and gathering prohibited. Bivouac allowed between 7 pm and 9 am.
Getting There
From Samoens, go towards the "Allamands." Park in the parking lot of Crêt, after the car park of the Pied du Crêt and three switchbacks.
GPS Coordinates (WGS 84) of the Starting Point: 46.107318, 6.744710
Ascent
Take the "Folly – Lac des Chambres" trail to the right of the road that leads gently to the chalet of Crêt and then to the Dalle du Tuet. Do not hesitate to use the chains to cross this passage.
The track then descends into the woods and intersects with the path leading to the Pied du Crêt car park.
After passing a footbridge over the Torrent des Landes, the footpath, now steeper, will describe several switchbacks before leaving the forest and ending at Refuge de Folly.
From the refuge, continue the pathway always indicated by a sign, which, after a few short switchbacks, leads to a well-clear meadow.
Then you reach Eaux Froides's scree where you climb by short steep switchbacks.
After climbing the grassy ridge just after this passage, the Lac des Chambres is unveiled.
Descent
Take the same path as described above.

Photos of the Lac des Chambres
Route
Download the route (KML) Download the route (GPX)
This post is also available in Français