Easy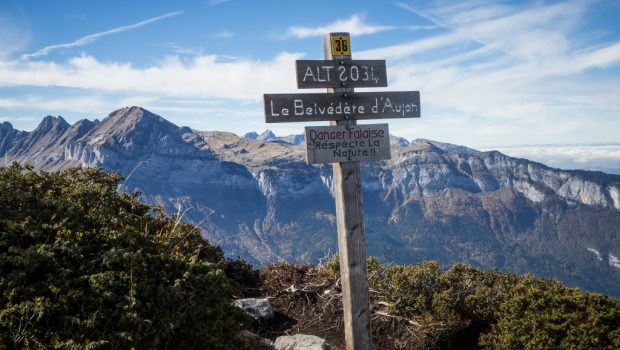 Belvédère d'Aujon
On the surface of some limestone soils occurs an erosion phenomenon called "lapiaz. " It is a chemical (and not mechanical) action that causes this erosion, the result of which is the sculpture of the rock in more or less deep grooves. Depending on the degree of slope, these grooves forms more or less sharp wavelets of different sizes.
It is in this unusual setting that I propose this simple walk whose goal is a belvedere which dominates the Arve Valley from the top of a cliff 1500 m above sea level. The ski resort of Flaine, whose mineral architecture claiming to be in harmony with the landscape remains to be discussed, is quickly forgotten as soon as one reaches the first switchbacks of the access road.
Please note that even though this hike is classified as easy, it's not devoid of any risk. In fact, the journey in the lapiaz must be made with vigilance, especially with children. Cracks and holes are very deep; Caution is thus advised.

Difficulty: Easy
Altitude: 2,034 m
Ascent: 1 hour 30 min
Descent: 1 hour 00 min
Elevation Gain: 460 meters
Round-trip: 5.8 km
Map: IGN 3530 ET
Getting There
The departure is located in the heart of Flaine ski resort, 28 km away from Cluses.
GPS Coordinates (WGS 84) of the Starting Point: 46.003861, 6.690701
Ascent
From the car park at Flaine ski resort, turn right towards the departure station of Aup de Véran cable car.
The trail begins in the forest. After a few meters, a signpost signals the belvedere. Very soon, the slope becomes more pronounced until the start of a ski lift. The Chalets d'Aujon are quickly in sight, and the road bypasses them by the left. The first lapiaz appear, and the track disappears: it is necessary to continue following the red marks well visible on the rocks. Be careful when crossing the cracks in the rock as very deep holes await the imprudent hiker in places.
Several signs indicate the top that is reached in a few minutes. The panorama at Belvedere of Aujon remains vertiginous. Hikers can have a look at Pointe de Bornand right beside, the Aravis Range opposite with the great Pointe Percée, Croix de Fer on the left with its grassy slope and, even higher, Tête du Coloney.
Descent
Turn right after the Chalets de Aujon where a bifurcation invites to choose between "Le Bois," which is the way of the ascent, and "Flaine." This second direction shows the whole ski resort and is less steep when descending.

Photos of the Belvédère d'Aujon
Route
Download the route (KML) Download the route (GPX)
This post is also available in Français