Easy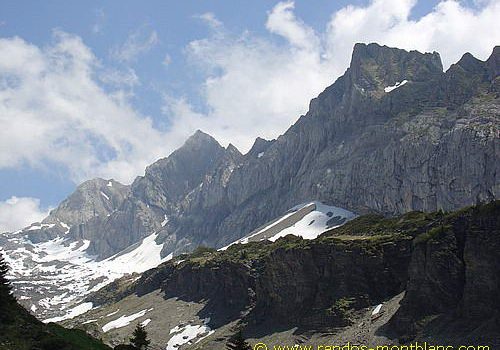 Col de la Golèse and Refuge de Bostan
Vous aimez mes photos de montagne et vous souhaitez soutenir mon site ? Je vous invite à vous rendre sur ma boutique Etsy. Vous y trouverez toutes mes plus belles photos de montagne et de paysage que vous pourrez télécharger et imprimer pour décorer votre maison.
The itinerary that I propose describes a loop that starts from the car park of the Allamands, leads to the Refuge du Col de la Golèse, climbs a little more and goes down to the Refuge de Bostan nestled at the foot of the impressive walls of the Aouille du Criou.
Note the possibility of climbing the Tête de Bostan from the Col de la Golèse (add 3 hours 00 min to the original itinerary).

Difficulty: Easy
Altitude: 1,763 m at the Refuge de Bostan, 1,671 m at the Col de la Golèse
Ascent: 1 hour 30 min to the Col de la Golèse
Descent: 2 hours 15 min from the Col de la Golèse
Elevation Gain: 720 meters
Round-trip: 9.0 km
Map: IGN 3530 ET
Getting There
In Samoëns, take the direction of the Chevreret and continue the road until the Allamands. Go past the locality and stop at the car park of Plan aux Arches (3rd car park on the way up).
GPS Coordinates (WGS 84) of the Starting Point: 46.112387, 6.750695
Ascent
From the parking lot, follow a paved road for about a hundred meters, which quickly transforms into a stone road.
Soon, you'll see the Chalets de Chavonnes; Continue towards the Col de la Golèse. After passing the Chalet de la Croix, the path is less steep until the Refuge of the Golèse.
Turn right in front of the refuge on the signposted trail in the direction of the Refuge de Bostan.
It climbs a little up to an intersection where you can head to the Tête de Bostan. Turn right and follow the path down to the Refuge de Bostan.
Much more pleasant than the stone road, the trail goes through stone blocks and wiggle to get to the Refuge de Bostan.
Descent
Just before the refuge, take the trail that goes right towards Samoëns – les Allamands. After a hundred meters, the trail becomes wider goes to the edge of the forest of Bostan that you have to go through to reach the car park of Allamands.

Photos of the Col de la Golèse and the Refuge de Bostan
Route
Download the route (KML) Download the route (GPX)
This post is also available in Français