Intermediate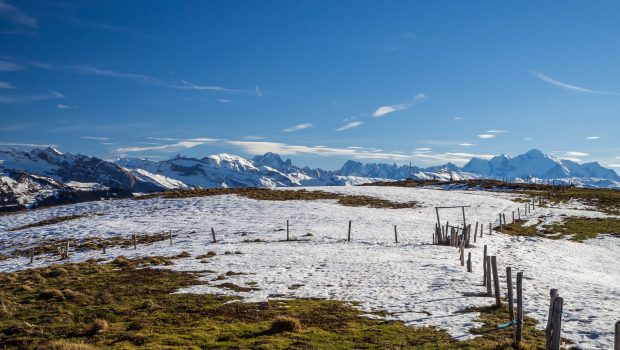 Pointe d'Uble
The view from Pointe d'Uble highlights the mountains that surround it thanks to its location in the heart of Chablais. All the Massifs of Haute-Savoie are exhibited in the eyes of the hiker whose memory will remain marked by the multitude of peaks in presence such as Roc d'Enfer, Pointe de Chalune, Haute Pointe, Pointe du Haut Fleury, Pic du Marcelly or the Môle. The itinerary takes place in the forest in its first part and climbs through the pastures after that. The ascent is quite steep, especially in its final part where the average slope is about 24%. In summer, an early arrival at the summit of Pointe d'Uble will allow admiring the panorama before the usual cumuli in this season invade the sky.

Difficulty: Intermediate
Altitude: 1,963 m
Ascent: 1 hour 30 min
Descent: 1 hour 00 min
Elevation Gain: 710 meters
Round-trip: 5.7 km
Map: IGN 3528 ET
Getting There
Go to Taninges and follow signs for Morzine – Avoriaz. At the Pont des Gets, turn left towards Praz-de-Lys. After about 3 km, at the first turning on the left, take the narrow path on your right towards "La Crotte." Go to the end of the road and park in the small parking lot.
GPS Coordinates (WGS 84) of the Starting Point: 46.155122, 6.594741
Ascent
Take the steep road which gets into the forest to the right of the parking lot. After about ten minutes, pass the Chalets Rosset and continue the trail that enters the wood again. The rather abrupt itinerary gains rapidly in altitude. At the end of the forest, the trail progresses amidst beautiful flowering meadows. Continue to get through the final shaded part before reaching the superb alpine pastures. Then turn to the left to ascend a bit more steeply. The footpath, sometimes hard to distinguish, is intersected by tracks left by animals. After this ascent in the slope, the path turns to the right for the final climb to the top; It is necessary to spare one's efforts to reach the arrival, the ascent being rather abrupt. This effort will be well rewarded by the 360 ° panorama offered at the top of Pointe d'Uble.
Descent
Take the same route as described above.
Photos of Pointe d'Uble
Route
Download the route (KML) Download the route (GPX)
This post is also available in Français