Intermediate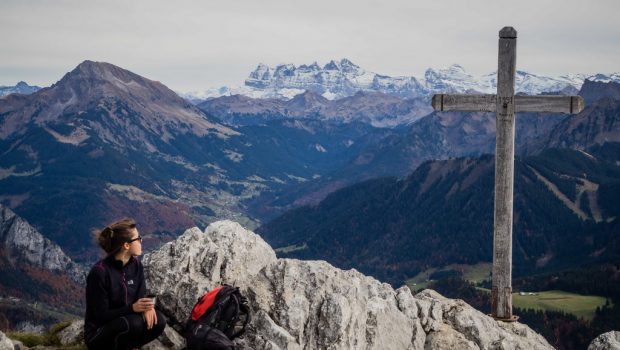 Mont Ouzon
Mont Ouzon and its rocks remain a very beautiful point of view on the Chablais Massif and the Mont Blanc Massif as well as on Lake Geneva. The climb is quite harsh at first in the forest but gets smoother when reaching the Col de Planchamp. The last part of the ascent to Mount Ouzon is clearly steeper: a passage equipped with chains facilitates the ascent. Although secure, it requires some vigilance. The use of a cord may be indicated for younger children, especially when descending. The summit of Mont Ouzon is not impressive as the rocks provide an excellent safeguard against the heights.

Difficulty: Intermediate
Altitude: 1,880 m
Ascent: 1 hour 45 min
Descent: 1 hour 00 min
Elevation Gain: 600 meters
Round-trip: 5.8 km
Map: IGN 3528 ET
Getting There
From Thonon-les-Bains, take the direction of the Valley of Abondance and follow the direction of St Jean d'Aulps. After passing the site of the Gorges du Pont du Diable, turn left on the D32 towards Biot and the Col du Corbier. Park either in the small car park on the right facing the long metal staircase or behind the buildings shortly before the arrival of the metal staircase by turning left on a little road that goes up.
GPS Coordinates (WGS 84) of the Starting Point: 46.283918, 6.644720
Ascent
The trail starts just to the right of the arrival of the large metal staircase and then fairly steeply enters the forest. After passing a small chalet, a curve on the left leads to the picturesque Chalets d'Ouzon. Continue along the broad road to the Col de Planchamp; From here, the clear view allows admiring Dent d'Oche and the wide barrier formed by the Rocks of Ouzon with the cross at the top of the eponymous mountain. The pathway gets narrower and, through a few switchbacks between the spruces, leads to the foot of the rock wall. Proceed and straddle the roots of a fir tree across the path to arrive at the passage equipped with chains. After this short, very steep passage, the peak is quickly reached.
Descent
Take the same path as described above with all the necessary precautions in the passage with chains.

Photos of Mont Ouzon
Route
Download the route (KML) Download the route (GPX)
This post is also available in Français