Intermediate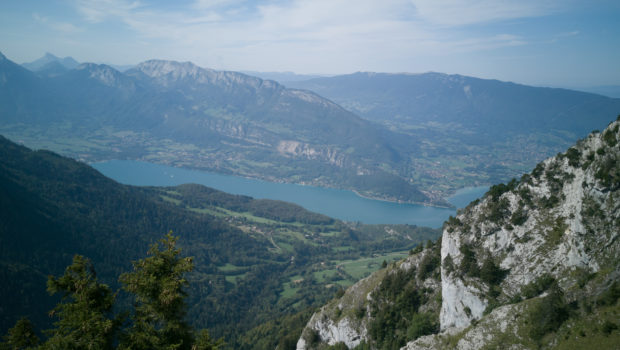 Pointe de Talamarche
Pointe de Talamarche is a summit of the massif des Bornes culminating at an altitude of 1852m. Much less well known than the popular Tournette, Pointe de Talamarche is nevertheless a great idea for a hike. Indeed, the panorama offered over Lake Annecy from the summit remains one of the most striking in the region. Moreover, one can observe a large part of the peaks of the Aravis massif.
Taking a large part of the itinerary going to Lanfonnet and Roc Lancrenaz, the route that I propose here does not involve any particular difficulty. Only a small cabled and secured passage at Roc Lancrenaz requires a little more attention in wet weather.
Difficulty: Intermediate
Altitude: 1,852 m
Ascent: 2 hours 30 min
Descent: 1 hour 50 min
Elevation Gain: 680 meters
Round-trip: 9.8 km
Map: IGN 3431 OT
Getting There
Reach the Chalet de l'Aulp by the stony road (in poor condition) starting at the place called "Les Prés Ronds" located north of the village of Montmin. Come and park in the car park in front of the chalet.
It is recommended to arrive early in the morning as the car park is quickly full. Drivers of " low-riding " cars should park at " Les Prés Ronds " and take the path that cuts the bends to reach the Chalet de l'Aulp.
GPS Coordinates (WGS 84) of the Starting Point: 45.832070, 6.262944
Ascent
The start of the itinerary is located just after the Chalet de l'Aulp. The path goes down through the forest to a small stream and then gently goes up to the Chalet des Crottes. I would like to point out that this descent in the forest can be very slippery in wet weather. Afterwards, one reaches quite quickly the Col des Nantets and its cross overlooking the village of Montremont.
From there, the path becomes much steeper. After passing the Chalet de la Froulaz on the right, a short steep trail leads to the Roc Lancrenaz. The passage equipped with a cable is easy to negotiate even for the most fearful. However, do not hesitate to put your hands on the descent, as the stones are very smooth and slippery.
After the Roc Lancrenaz, leave the low wall leading to the Lanfonnet and follow the path in a slight descent going straight ahead. The footpath progresses in the direction of the Chalets de l'Aulp Riant Dessus with Pointe de Talamarche in full view. Once you reach the chalets, the path becomes much steeper and requires a certain amount of effort. It takes about fifteen minutes to reach the summit, which can be won along a ridge path.
Descent
The descent is made by the same route.
Photos of Pointe de la Talamarche
Route
Download the route (KML) Download the route (GPX)
This post is also available in Français