Intermediate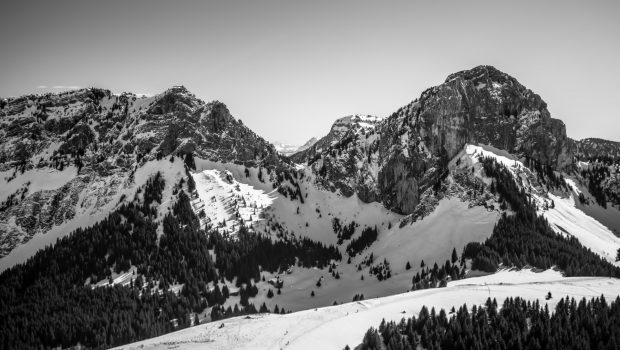 Pointe de Sur Cou
Pointe de Sur Cou, whose toponym means "the peak above the pass," 1 presents itself as a vast grassy dome on the heights of La Roche-sur-Foron. In spite of its average altitude, the top offers a stunning panorama with a splendid 360 ° view of Lake Geneva area, Jura, Mont Blanc, and the Bornes Massif as well as many other mountains. No technical difficulty and passage exposed to heights are to be mentioned. However, pay attention once arrived at the summit as heights are very present. The itinerary describes a loop joining the Chalet de Balme and descends by the Promontoire. The summer course is also feasible in winter with snowshoes; In this case, the path goes directly to the Col de Sur Cou (red tracing on the map) without going through the Chalet de Balme and retraces its steps for the descent since the Promontoire trail can be dangerous under snow.

Difficulty: Intermediate
Altitude: 1,809 m
Ascent: 1 hour 40 min
Descent: 1 hour 10 min
Elevation Gain: 620 meters
Round-trip: 6.9 km
Map: IGN 3430 ET
Getting There
Get to La Roche-sur-Foron. Drive through the town and take the D2 towards Thorens-Glières. Four kilometers further, turn left towards Orange. Once arrived in the village, turn right following the "Chesnet – Chalet de Balme" and park in the parking lot a little further.
GPS Coordinates (WGS 84) of the Starting Point: 46.021492, 6.323541
Ascent
From the parking lot, take the forest road to Chalet de Balme. Pretty soon, the path becomes quite stiff and climbs through the wood. At a crossing, leave the trail that goes down to the right and take the steeper path on the left. Continue in the forest on this small trail that winds and rises quickly above the Chalet de Balme and finally reaches the Col de Sur Cou. From there, take the oblique pathway to arrive at the peak. At a fork, leave on the left the path that descends by the Promontoire, and continue on the road that turns frankly on the right to win the summit in a final effort.
Descent
Turn back to the junction and follow on the right in the direction of Chesnet by the Promontoire. At the edge of the ridge, turn right towards the Pernet trail. After a short and somewhat steep descent, the path winds between the roots and sinks into the woods. Be careful, in wet weather, this part of the road can be very slippery. After several switchbacks, one reaches a forest track that leads back to the parking lot.
Photos of Pointe de Sur Cou
Route
Download the route (KML) Download the route (GPX)
Buord, Jean-Philippe. Origine des noms des montagnes de la Haute-Savoie. Annecy : Color Verba Edition, 2015, p.194 ↵
This post is also available in Français