Easy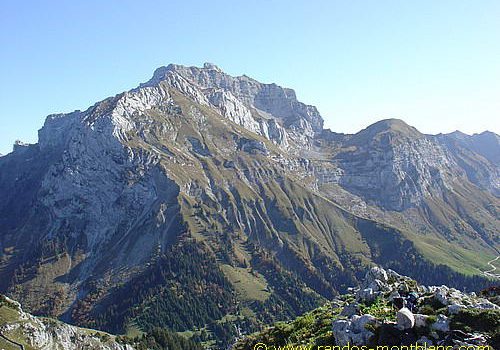 Lanfonnet and Roc Lancrenaz
The Lanfonnet is the goal of a hike that is much easier than the ascent of its neighbor, Dents de Lanfon and the Tournette. The panorama on Lake Annecy from this mountain is superb. The passage through the Roc Lancrenaz, the only slightly "technical" place as it's equipped with a handrail, reveals the verticality of the cliff plunging into the lake.

Difficulty: Easy
Altitude: 1,650 m at the Roc Lancrenaz
Ascent: 1 hour 45 min
Descent: 1 hour 10 min
Elevation Gain: 440 meters
Round-trip: 5.7 km
Map: IGN 3431 OT
Getting There
The departure is located at the Col de l'Aulp (1,424 m), after the Prés-Ronds (1,216 m). You have to go in the direction of the Col de la Forclaz and follow the direction of Montmin and then that of Col de l'Aulp.
GPS Coordinates (WGS 84) of the Starting Point: 45.832070, 6.262944
Ascent
The trail for the Lanfonnet starts to the right of the refreshment bar and goes down into the forest in the direction of the Chalet des Crottes. Then head towards the Col des Nantets that dominates the village of Montremont. The trail becomes much steeper, and after having passed the Chalet de la Froulaz, a short hike leads to the Roc Lancrenaz. The passage equipped with a handrail is easy to negotiate even for the most fearful. After Roc Lancrenaz, turn left along the low wall to take the path that leads towards the peak.
Descent
You can: – either follow the ridge and reach the Chalets de l'Aulp Riant; – or descend by the same route.

Photos of Lanfonnet and Roc Lancrenaz
Route
Download the route (KML) Download the route (GPX)
This post is also available in Français