Intermediate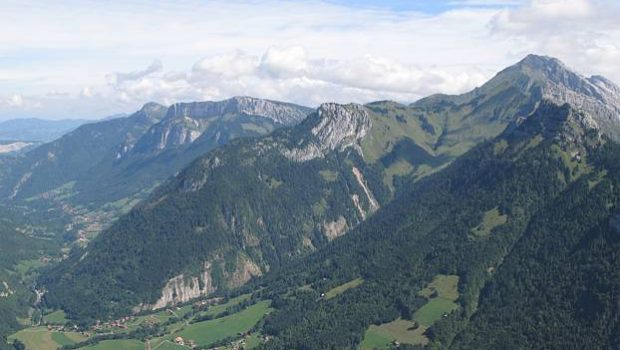 Le Suet
Standing between the Plateau des Glières and Bornes Massif, and located at the end of Mont Lachat, Le Suet, despite its low altitude, turns out to be a splendid viewpoint on Lake Geneva area, the Aravis Range and some peaks of Savoie.
The route is only a very steady climb in the forest of La Perrière, strewn with large rock blocks at the exit of it. In autumn, the progression can be more difficult because of the markings masked by the leaves on the ground.

Difficulty: Intermediate
Altitude: 1,863 m
Ascent: 2 hours 10 min
Descent: 1 hour 30 min
Elevation Gain: 820 meters
Round-trip: 6.3 km
Map: IGN 3430 ET
Getting There
Go to Saint-Jean-de-Sixt. In the village, follow the signage "Forgeassoud-dessus" and come to park in the small car park on the left in front of a farm, just before the end of the road.
GPS Coordinates (WGS 84) of the Starting Point: 45.922959, 6.387914
Ascent
From the car park of "Forgeassoud-dessus," take the tarred road until you take a path on the right going to Le Suet and forking into the forest; Thence begins a long ascent.
Signs, yellow and green arrows, and red beacons painted on the rocks regularly indicate the peak.
After an hour of walking, you get to a chalet where you can take a pathway to reach the end of Mont Lachat. Leave the chalet on the left and continue climbing in the wood following the red beacons.
At the end of the forest, the grassy summit of Le Suet is only a few switchbacks away.
Descent
Take the same path as described above.
Note that it is possible to go back down by another path that is a little less hard on the knees. The return is via the place called "Cerisset" as indicated on the map. To do this, back at the Cabane du Suet, turn right to take a small track marked with a white and red marker. Then, when you reach the altitude of 1602 m, continue to leave a path on the right that goes up towards Mont Lachat. The path continues with a few hairpin bends. Then, when you reach Cerisset, turn left. Further on, you have to turn left again at 1088 m to reach the car park located not far from there.
Photos of Le Suet
Route
Download the route (KML) Download the route (GPX)
This post is also available in Français