Easy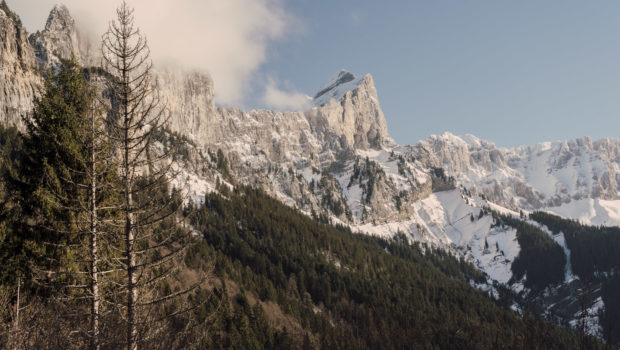 La Tête de Louis-Philippe
Tête de Louis-Philippe is a summit of the Giffre massif located in the commune of Magland. Little known to hikers, Tête de Louis-Philippe is nevertheless a very beautiful hiking goal in winter. Indeed, it is accessible to most people because of its low elevation gain and the absence of technical passages. Moreover, the view offered to the walker is worth the detour! From the Col de la Frête, the walker will be able to observe the imposing Croix de Fer and Aiguille d'Aujon and its belvedere. Once on Tête de Louis-Philippe, it is the entire northern part of the Aravis chain that can be contemplated, with magnificent views of the Pointe d'Areu and the Pointe Percée.
Difficulty: Easy
Altitude: 1,389 m
Ascent: 1 hour 20 min
Descent: 0 hour 50 min
Elevation Gain: 370 meters
Round-trip: 6.8 km
Map: IGN 3530 ET
Getting There
From Cluses, go up towards Flaine on the D6 road. In the village of Les Carroz, continue towards Flaine. A little before a switchback on the right, turn right to join the hamlet of Les Feux. Continue on the Chemin Rural des Feux À La Colonnaz. Come and park on the clearing on the left side of the road, under the cliff.
GPS Coordinates (WGS 84) of the Starting Point: 46.013084, 6.643051
Ascent
From the car park, continue on foot on the asphalt road that enters the wood. The old mine and the Torrent de l'Épine are quickly attained. Cross the bridge and continue on the road which descends afterwards very slightly. A few minutes later the route gets to the three chalets des Chavonnes and continues downhill. A little further on, you reach the hamlet of La Colonnaz. From there, turn left to follow the direction of the "Tête de Louis-Philippe – 0 h 50" as indicated by the sign.
Be careful to follow the red and white arrow-shaped signs. The trail passes between the cottages and then rises gently into the forest. Further on, the trail climbs steeply to win the Col de la Frête. You will then have to follow on the right the direction of the Tête de Louis-Philippe situated ten minutes away.
The path goes past two chalets and then winds through the forest on a fairly flat terrain. You finally reach the sign marking the Tête de Louis-Philippe and its panorama located 40 metres away.
Descent
The descent is made by the same route.
Photos of the Tête de Louis-Philippe
Route
Download the route (KML) Download the route (GPX)
This post is also available in Français