Easy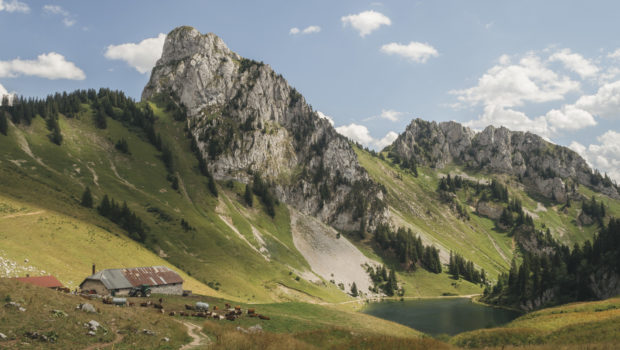 Pointe de Vernaz via Lac d'Arvouin
Pointe de Vernaz is a peak of the Chablais region, reaching an altitude of 1,993 m. The mountain overlooks Lac d'Arvouin and offers an exciting view of the surrounding peaks, such as Cornettes de Bise, Mont Chauffé or Dents du Midi. I propose a hike that reaches Pointe de Vernaz starting from Sevan devant in the locality of La Chapelle-d'Abondance. The itinerary is the same in the beginning as the one described for Lac and Pointe d'Arvouin. Being exempt from particular difficulties, I recommend this walk to all those wishing to learn to hike.
As Pointe de Vernaz is part of the Cornettes de Bise protected natural area, dogs must be kept on a leash. Coming from the Savoyard patois vorê, varoche or verosse, which refers to "the alder of the mountains", the toponym Vernaz would, therefore, refer to a place where there was once an alder forest. 1.
Difficulty: Easy
Altitude: 1,993 m
Ascent: 1 hour 25 min
Descent: 0 hour 50 min
Elevation Gain: 490 meters
Round-trip: 7.3 km
Map: IGN 3528 ET
Restrictions: Dogs allowed on a leash only
Getting There
The departure is made at the car park of the place called Sevan devant. Coming from Abondance, take the road on the left at the exit of the La Chapelle-d'Abondance and follow it to the terminus.
GPS Coordinates (WGS 84) of the Starting Point: 46.305809, 6.818590
Ascent
From Sevan devant car park, take the track going towards the Col du Serpentin and the Lac d'Arvouin as indicated by the sign. The footpath rises gradually in the mountain pastures to reach the Sevan derrière chalet a few minutes later. A little further on, the trail flattens out and gets to Lac d'Arvouin in about fifteen minutes.
Walk towards the "Col du Serpentin – 0 h 50" as mentioned by the signpost. The pathway goes around the lake by its eastern shore to join the Chalets d'Arvouin. Just after the chalets, two options are available to arrive at the Col du Serpentin: either turn right to climb directly to the Col visible from there, or continue on the left to describe a U passing through the Tête de l'Avalanche before reaching the Col.
From the Col du Serpentin, move straight ahead to take a path that is not very marked at first, but becomes well marked at a later stage. The climb is short and winds through small bushes. Pointe de Vernaz, not signalled, is won in about fifteen minutes. It is worth noting the possibility of reaching Pointe d'Arvouin from Pointe de Vernaz. However, I do not recommend this route, as it is dangerous and requires climbing passages that are exposed.
Descent
The descent is made by the same route.

Photos of Pointe de Vernaz via Lac d'Arvouin
Route
Download the route (KML) Download the route (GPX)
Buord, Jean-Philippe. Origine des noms des montagnes de la Haute-Savoie. Annecy : Color Verba Edition, 2015, p.389 ↵
This post is also available in Français