Easy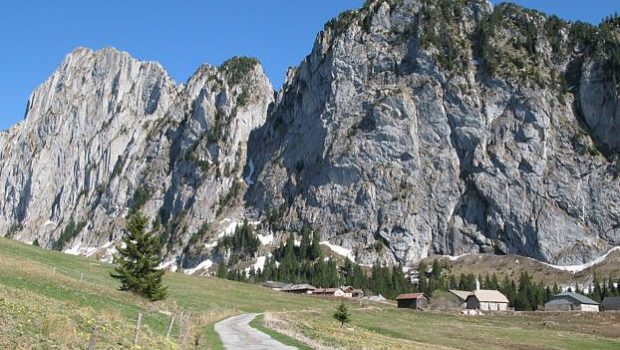 Pointe de Lachau
Pointe de Lachau is a stroll without any difficulty (if not the last part of the ridge a little steep when arriving at the summit), and feasible in half a day. Next to the imposing Mont Chauffé that will accompany us throughout the hike, the 360 ° panorama is stunning on Cornettes de Bise, Dent d'Oche, and Pointe de Bénévent. I must emphasize for people who have a fear of heights that the return path follows a natural but vertiginous ridge.

Difficulty: Easy
Altitude: 1,962 m
Ascent: 1 hour 25 min
Descent: 1 hour 15 min
Elevation Gain: 440 meters
Round-trip: 4.6 km
Map: IGN 3528 ET
Getting There
Like the hike to Lake Darbon, from Thonon-les-Bains, take the direction of Morzine, then the D22 road towards Abondance. Follow "Vacheresse chef-lieu" and continue towards the mountain pastures of Bise and Ubine. At the junction, turn right towards the Chalets d'Ubine and proceed until the end of the road.
GPS Coordinates (WGS 84) of the Starting Point: 46.306958, 6.743061
Ascent
The trail begins on the right at the alpine chalets by an arrow sign. Take the direction of the Col d'Ubine reached in about forty minutes following the walls of the impressive Mont Chauffé.
On arrival at the pass, the efforts will already be well rewarded by a magnificent view on Cornettes de Bise (2432m) which seem to be within reach. From there, turn left towards Pointe de Lachau.
The path is much steeper and narrower: do not be too distracted by the landscape, because you have to look where you put your feet, the slope to the right being very abrupt.
Pointe de Lachau is approaching; You will reach it after some switchbacks and a turn on the left.
It is the ideal place for the break and the contemplation of the peaks which surround the hiker.
Descent
Continue the road that descends from Pointe de Lachau following the crest. Be careful: it is easy, but for those who are afraid of heights, do not hesitate to leave the path and walk a little lower and take the track again. You can see below Lake La Fontaine and the Chalets de Bise. The pathway ceases to be exposed to heights at the passage of a fence and becomes poorly traced.
Do not go down too much and fork to the left, taking Mont Blanc as your landmark. In places, the track is entirely absent, but the direction to follow is obvious. You will find the onward journey trail practically at the level of the chalets.

Photos of Pointe de Lachau
Route
Download the route (KML) Download the route (GPX)
This post is also available in Français