Easy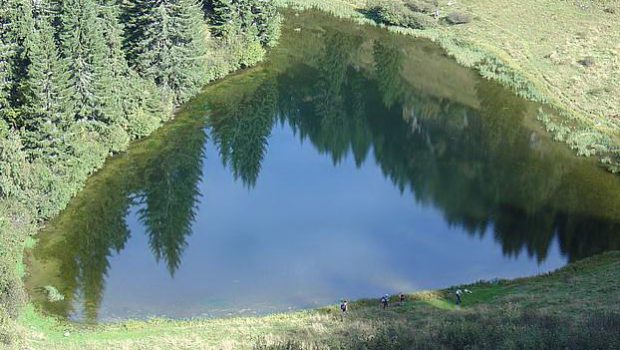 Lac Damoz des Moulins
The Lac Damoz des Moulins is an ideal hiking goal by a hot summer day. Most of the itinerary takes place in a forest where reign freshness and pleasant humidity.
The lake of modest size is nestled at the foot of the Tavaneuse Massif in a calm and serene environment conducive to a well-deserved nap before the descent to the valley.

Difficulty: Easy
Altitude: 1,609 m
Ascent: 1 hour 50 min
Descent: 1 hour 30 min
Elevation Gain: 600 meters
Round-trip: 6.6 km
Map: IGN 3528 ET
Getting There
Reach Saint-Jean d'Aulp. In the village, take the small road that leads to Mont d'Evian and continues to the terminus.
It's possible to park on the left before the forest or just after the last chalets.
GPS Coordinates (WGS 84) of the Starting Point: 46.239516, 6.661248
Ascent
Take the paved road to Damoz des Moulins. The slope is moderate until the Chalets des Fours.
Turn left at the wooden cross decorated with a sculpted Christ, and continue the pathway that becomes steeper. After a few switchbacks, a new bifurcation invites to take on the left the track that rises rapidly in the forest to get to the plateau and the Chalets Damoz des Moulins.
Go right on the narrow footpath that leads to the wood for a short ascent, before reaching a small pass going to the lake.
A path on the right goes around it and climbs a little to admire it.
Descent
Take the same route as described above.

Photos of Lac Damoz des Moulins
Route
Download the route (KML) Download the route (GPX)
This post is also available in Français