Easy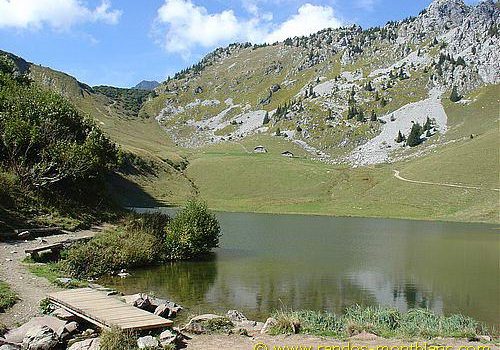 Lac and Pointe d'Arvouin
The itinerary that I propose here is more a half day trip than a real hike as the elevation gain and distance are negligible. The great mountain pastures and the very close summits will make this itinerary an unforgettable memory for young and old alike.

For the most courageous, I recommend the itinerary of Pointe d'Arvouin, which offers a magnificent view of the Cornettes de Bise. It is also possible to climb to Pointe de Vernaz. If you want to reach the two summits, I recommend going through the Col du Serpentin, because the ridge path between Pointe de Vernaz and Pointe d'Arvouin is quite dangerous.

Difficulty: Easy
Altitude: 1,663 m at the Lac d'Arvouin, 2,021 m at the Pointe d'Arvouin
Ascent: 0 hour 20 min to get to the Lac d'Arvouin, 1 hour 15 min to get to the Pointe d'Arvouin
Descent: 1 hour 00 min from the Pointe d'Arvouin
Elevation Gain: 210 meters to get to the Lac d'Arvouin, 520 meters to get to the Pointe d'Arvouin
Round-trip: 3.4 km for the Lac d'Arvouin, 6.6 km in total
Map: IGN 3528 ET
Getting There
The starting point is located at the parking lot of the hamlet of Sevan devant. From Abondance, take the road on the left after La Chappelle Abondance and follow it to the terminus.
GPS Coordinates (WGS 84) of the Starting Point : 46.305031, 6.815161
Ascent
The departure is located on the left of the parking lot. The path rises very slowly between the mountain pastures strewn with wildflowers. Very quickly, you reach a chalet that you bypass on the left. After a few minutes, you can already see the end of the Lac d'Arvouin dominated by the Pointe d'Arvouin.
Take the trail on the right to follow the lake and walk to the Chalets d'Arvouin. From here, turn right towards the Col de Savalenaz. The trail becomes steeper and reaches the Col de Savalenaz quite quickly after a short passage in a forest.
From there, turn left on the road that goes up steeply to a small peak with a yellow cross at the top.
After a stop in front of the Cornettes de Bise, retrace your steps and take the badly-marked path towards the rocks of the Pointe d'Arvouin.
After a short steep ascent, you reach the summit that offers a magnificent view over the Cornettes de Bise and the surrounding peaks.
Descent
Take the same route as depicted above.

Photos of the Lac and Pointe d'Arvouin
Route
Download the route (KML) Download the route (GPX)
This post is also available in Français