Easy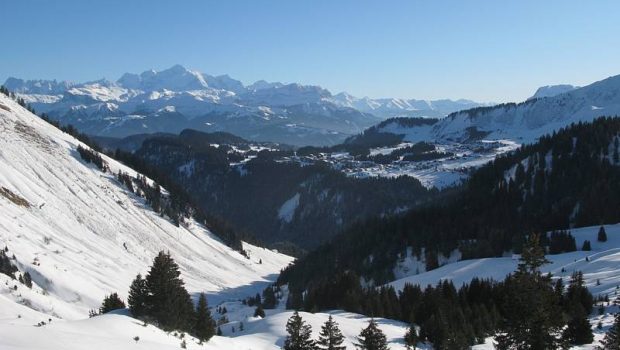 Col de la Ramaz and Chalet Blanc
The itinerary proposed here is a leisurely winter stroll starting from the ski resort of Praz-de-Lys and allowing to reach Sommand by the Col de la Ramaz.
It can be an initiation to snowshoeing since the elevation gain is very small. Furthermore, the landscape is just magnificent. It is also the starting point of easy hikes like Lac de Roy, the Col de Cordon, or harder as Pointe de Chalune or Marcelly. The Col de la Ramaz can also be taken from Sommand. Note the possibility of describing a loop passing through the Chalet Blanc at the foot of Pointe de Chalune.

Difficulty: Easy
Altitude: 1,671 m at the Chalet Blanc
Ascent: 1 hour 30 min
Descent: 1 hour 00 min
Elevation Gain: 240 meters
Round-trip: 7.7 km
Map: IGN 3528 ET
Getting There
Park in the parking of the resort of the Praz-de-Lys located at the terminus of the road.
GPS Coordinates (WGS 84) of the Starting Point: 46.146369, 6.582334
Ascent
Take the cross-country ski run up towards the Col de la Ramaz. Arriving at the Col de la Ramaz, continue the trail that goes down and reaches the chairlift of Pierre Rouge. From there, take the well-signposted footpath on the right to Pointe de Chalune and the Chalet Blanc. After an extended flat portion in a straight line, the path descends slightly to go up more frankly in switchbacks not far from the chalet.
Descent
Take the same road as described above.

Photos of the Col de la Ramaz and the Chalet Blanc
Route
Download the route (KML) Download the route (GPX)
This post is also available in Français