Easy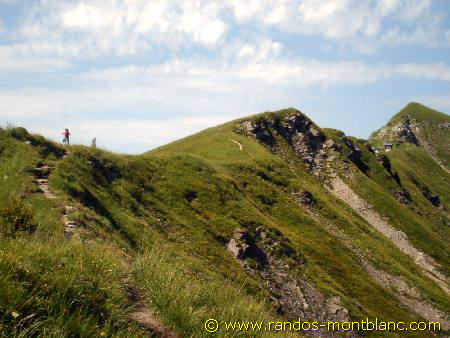 Pointe d'Angolon via La Bourgeoise
La Bourgeoise constitutes a very easy walk whose summit allows a panoramic view of the Mont Blanc Massif, Mont Buet, and the Aravis Range. In the summer, La Bourgeoise is a popular site for paragliding. Pointe d'Angolon placed opposite, allows climbing a little and better observe Dents Blanches as well as the Mont Blanc.

Difficulty: Easy
Altitude: 2,090 m at Pointe d'Angolon, 1,770 m at La Bourgeoise
Ascent: 2 hours 00 min
Descent: 1 hour 00 min
Elevation Gain: 500 meters
Round-trip: 7.1 km
Map: IGN 3530 ET
Getting There
From Samoëns, take the direction of the Col de Joux Plane. Follow the road almost to the top of the Col de Joux Plane. The departure is located on the right of the road (1,627 m). A small clearance allows parking five or six cars: beyond, it is necessary to continue and to park at the Col de Joux Plane.
GPS Coordinates (WGS 84) of the Starting Point: 46.123869, 6.711058
Ascent
Take the path to the right of the road before the Col de Joux Plane and follow it in the direction of the summit that one sees from the first switchbacks.
Half way, you will pass some chalets that you have to bypass on the left. Then, the pathway gets a bit steeper to win the summit of Bourgeoise. Leave on the left the path that leads to the top of Pointe d'Angolon (which will be taken later), and reach La Bourgeoise.
From there, retrace your steps and take the trail going to "Pointe d'Angolon." A short, abrupt climb brings you to the summit of a peak. Go down again to reach the other slope where you can see the Lac de Joux-Plane.
From there, you start the ascent of Pointe de Chamossière, quite steep in places, with a magnificent panorama. Then follow the ridge path until the arrival station of the Chamossière chairlift.
The peak of Pointe d'Angolon is now very close. I strongly advise the use of the rope for children as the last meters of the ascent are technical, and a fall at this place would have serious consequences.
Descent
The descent begins under the chairlift and brings to the Lac de Joux Plane. From there, follow the road for about ten minutes to reach the parking lot further down.

Photos of Pointe d'Angolon via La Bourgeoise
Route
Download the route (KML) Download the route (GPX)
This post is also available in Français