Very Easy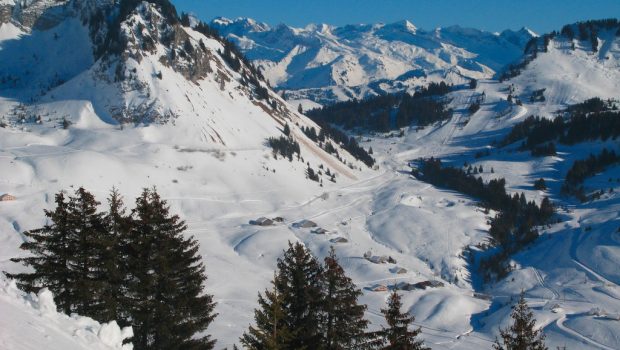 Col de Cordon
From the ski resort of Sommand, many summer hikes are possible in winter. For a discovery of the snowshoe outing, I propose the Col de Cordon that is an easy and safe route. One hour is necessary to climb the 230 m of gain depending on the snow conditions. The altitude of arrival (1,636 m) allows observing a breathtaking panorama, notably on Crête des Rasses located on the other side.

Difficulty: Very Easy
Altitude: 1,636 m
Ascent: 1 hour 00 min
Descent: 0 hour 40 min
Elevation Gain: 240 meters
Round-trip: 3.0 km
Map: IGN 3429 ET
Getting There
Park at the parking lot of the ski resort of Sommand above Mieussy, and take the road of the Col de la Ramaz. After about 200 m, turn left towards the chalets. The trail for the Col de Cordon begins just behind.
GPS Coordinates (WGS 84) of the Starting Point: 46.164713, 6.551926
Ascent
Follow the signs to a chalet where you will have to turn left in the direction of the forest. Walk past the last firs and take frankly left. After a steep-sided passage, the Col de Cordon is in sight; A short climb reaches it in about ten minutes.
Note the unmarked route that reaches Pointe de Rovagne (to do when the snow is thick, as the ground is abrupt).
Descent
Take the same path as described above.
Photos of the Col de Cordon
Route
Download the route (KML) Download the route (GPX)
Download the KML file of the hike
This post is also available in Français