Very Easy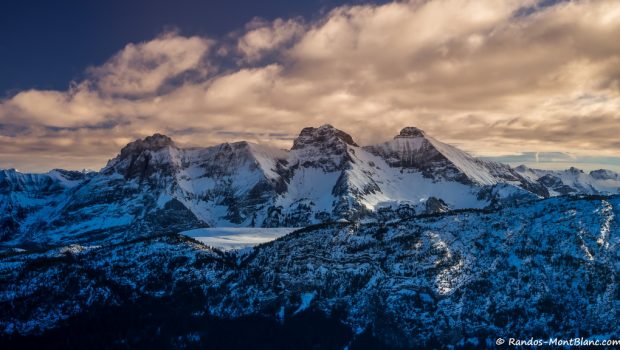 Pointe d'Andey
Veritable balcony overlooking the Arve Valley, Pointe d'Andey is an ideal objective for an outing at the beginning of the season when the snow forbids escapades on higher mountains. Its location allows a dominating overlook on all the surrounding peaks, particularly on the Bargy Massif on one side as well as Lake Geneva and the Jura Massif on the other. The circuit I propose forms a loop that reaches the peak and descends through the Col d'Andey. Without difficulty, the climb is sustained, yet accessible to all. In winter, the hike is easy, but still requires a good physical condition for the steepest passages before the summit. When the strati cover the valley, the view is just splendid!

Difficulty: Very Easy
Altitude: 1,877 m
Route: 1 hour 40 min
Elevation Gain: 300 meters
Round-trip: 2.5 km
Map: IGN 3430 ET
Getting There
The departure is at the Plateau de Solaison (1502 m) at the terminus of the road, 14 km away from Bonneville, just after Brison.
GPS Coordinates (WGS 84) of the Starting Point: 46.034724, 6.424381
Route Description
The trail, indicated by a sign, starts on the right of the road next to the last Chalets de the Plateau de Solaison. After a hundred meters in the alpine pastures, turn right at the fork; The footpath on the left is the return path. Very rapidly, the slope gets steeper and steady until a first promontory where one can look at the summit. After some more rocky passages, one can glimpse in the distance the Virgin who marks the arrival located a few minutes further. For the descent, follow the track in the direction of Col d'Andey which is reached quickly. The pathway becomes more abrupt and requires more attention, but remains safe. Arriving at the pass, one can see the parking lot and the Chalets de Solaison. Continue the trail to the fork.

Photos of Pointe d'Andey
Route
Download the route (KML) Download the route (GPX)
This post is also available in Français