Very Easy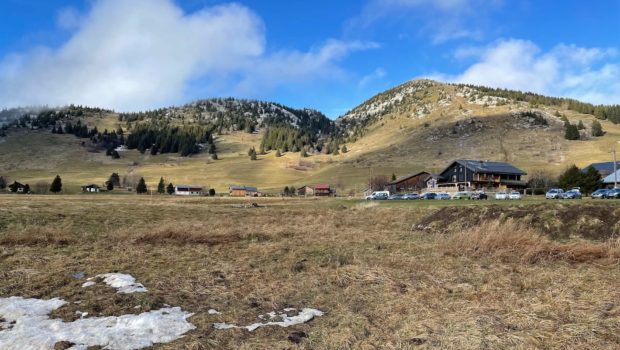 Pointe d'Andey
Pointe d'Andey constitutes an ideal objective for an outing at the beginning of the season when the snow forbids escapades on higher mountains. Its location allows a dominating overlook on all the surrounding peaks, particularly on the Bargy Massif on one side as well as Lake Geneva and the Jura Massif on the other.
The circuit that I propose forms a loop that passes by the summit and descends by the Col d'Andey. Without difficulty, the ascent is sustained, but accessible to all. It is for this reason that the route is classified as "very easy"; the climb, although quite steep, is relatively short and presents no technical difficulties. In winter with snowshoes, the ascent remains easy, but requires a good physical condition for the steepest passages before the summit. When the stratus cloud covers the valley in winter, the view is splendid!

Difficulty: Very Easy
Altitude: 1,877 m
Route: 1 hour 40 min
Elevation Gain: 350 meters
Round-trip: 2.8 km
Map: IGN 3430 ET
Getting There
The departure is at the Plateau de Solaison (1502 m) at the terminus of the road, 14 km away from Bonneville, just after Brison.
GPS Coordinates (WGS 84) of the Starting Point: 46.033167, 6.427444
Route Description
From the car park, follow the sign for "Pointe d'Andey – 1 h 20". After passing the chalet-restaurant on the right of the road, turn right to continue following the direction of Pointe d'Andey. The ascent through the mountain pastures begins on the clearly visible path that takes us to the summit. Note that the track on the left descending into the small combe is the one that will take us back. The slope is steep and sustained until the first promontory where the summit can be seen. After a few rocky passages, you can see the Vierge in the distance, which marks the summit of Pointe d'Andey, located a few minutes away.
For the descent, follow the path towards the Col d'Andey, which is quickly reached. The path becomes steeper and requires more attention, but is nonetheless not dangerous. Once you reach the pass, you can see the car park and the Solaison chalets. Follow the path to reach the car park.
Photos of Pointe d'Andey
Route
Download the route (KML) Download the route (GPX)
This post is also available in Français