Very Easy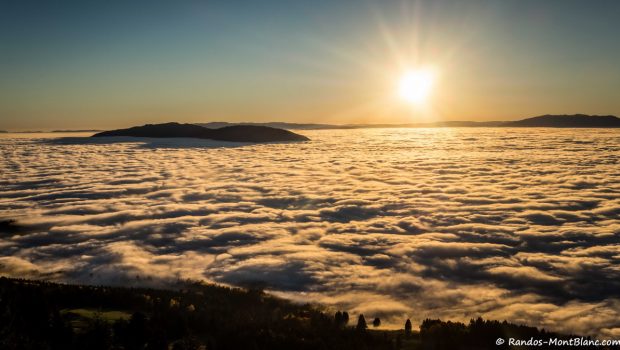 Signal des Voirons
The Signal des Voirons offers a very convenient walk even for youngsters, allowing to discover along the way a magnificent panorama on Lake Geneva and the Jura Massif on one side as well as Mont Blanc and the Chablais Massif on the other.

Difficulty: Very Easy
Altitude: 1,480 m at the Signal des Voirons, 1,457 m at Pointe de Brantaz
Route: 1 hour 45 min
Elevation Gain: 230 meters
Round-trip: 4.6 km
Map: IGN 3429 ET
Getting There
Go to the Col de Saxel. From there, turn left towards the monastery of Bethlehem. Leave the car in the parking lot of the monastery.
GPS Coordinates (WGS 84) of the Starting Point: 46.226001, 6.358242
Route Description
Take the signposted path which starts to the right of the parking lot near the monastery. The beginning may seem steep, but it only lasts a few meters in the undergrowth. After the undergrowth, take the paved road for a hundred meters, then turn left on the slope indicated by an arrow sign. Continue the trail in the grassy slope which rises to the entrance of Bethlehem's convent. Then, take the track climbing back into the wood reaching in less than ten minutes the Signal des Voirons.
From here, turn left and proceed in the direction of the Saut de la Pucelle distant of about twenty minutes where you can discover a vertiginous promontory. Continue the trail through the forest to arrive further at a clearing and then Pointe de Brantaz which will give a majestic outlook on the peaks alongside Mont Blanc.
Retrace your steps, then turn right at the fork just before the Saut de la Pucelle (do not climb the ridge) and follow the pathway until you find the path taken for the ascent.

Photos of the Signal des Voirons
Route
Download the route (KML) Download the route (GPX)
This post is also available in Français