Intermediate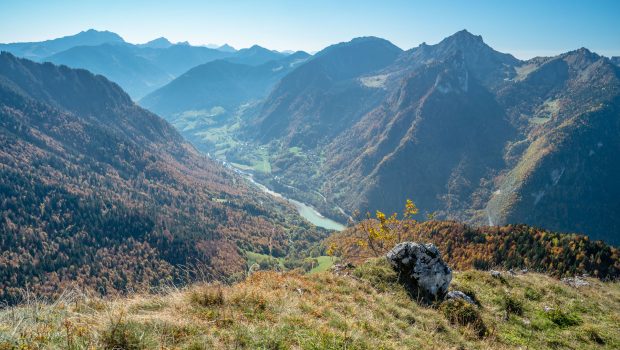 Pointe de Tréchauffé
The Pointe de Tréchauffé is a summit of Chablais culminating at 1627 m of altitude and being the object of a splendid excursion in the heart of the Valley of Aulps. The route I propose starts above the Chalets de Tréchauffé to reach the Pointe de Saugeon first, then descend to the Col de l'Aiguille before ascending to the Pointe de Tréchauffé. Because of a landslide, it is no longer possible to reach the Col de Tréchauffex from the Col de Nicodex, which is why the route stops at the Pointe de Tréchauffé and no longer describes a loop. The very well marked out route promises the walker a panorama of all splendour on the peaks of Chablais. I classified this outing as "medium difficulty" because of the series of very steep (but perfectly safe) metal stairs.

Difficulty: Intermediate
Altitude: 1,627 m
Ascent: 1 hours 20 min
Descent: 1 hour 00 min
Elevation Gain: 340 meters
Round-trip: 3.8 km
Map: IGN 3528 ET
Getting There
From Thonon-les-Bains, take the D902 road towards Morzine. After a dozen kilometres, turn left on the D122 road to La Forclaz. Follow the direction of Belvédère de Tréchauffé and park on the parking lot of the Belvédère just before the road descends.
GPS Coordinates (WGS 84) of the Starting Point : 46.320136, 6.625038
Ascent
Take the path in front of the Belvédère's parking lot, which quickly rises up the slope with short switchbacks, then further into the forest. At the end of the woods, the cairn marking the summit of Pointe de Saugeon (1445 m) is soon reached. Continue down to Col de l'Aiguille and follow the signs for Pointe de Tréchauffé. The path again enters the undergrowth and winds its way up to a very steep passageway with metal stairs. Without this equipment, the very slippery and steep passage would be really perilous, or even impossible to climb. After a few switchbacks, at the end of the forest, a sign indicates the summit on the right, a few meters from there, and a stopover is required to admire the splendid view of Mont Billiat, the Roc d' Enfer and a very large part of Lake Geneva. At the bottom, the Lac du Jotty makes it easy to find your way on the map.
Descent
Take the same path as described above.
Photos of Pointe de Tréchauffé
Route
Download the route (KML) Download the route (GPX)
This post is also available in Français