Intermediate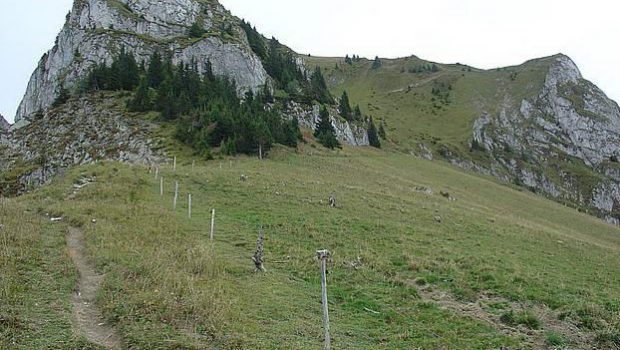 Mont Billiat
Mont Billiat is a fabulous site to discover the Chablais Massif. Although of low altitude, its location offers a panorama on Lake Geneva on one side, Dent d'Oche and all the summits of Chablais on the other. The well-marked trail is accessible to all. However, a steep passage equipped with chains and a cable requires attention during both the ascent and the descent. I do not recommend it to children, as their arms aren't long enough to proceed along the cable while holding it.
It should be noted that the track leading to the peak takes the ridge over a hundred meters: there is no risk, but a certain anguish can invade people having a fear of heights.

Difficulty: Intermediate
Altitude: 1,894 m
Ascent: 1 hour 30 min
Descent: 1 hour 00 min
Elevation Gain: 450 meters
Round-trip: 5.3 km
Map: IGN 3428 ET
Getting There
Reach Bellevaux via the D26 road from St-Jeoire. In the center of Bellevaux, turn right towards the "Bossons" and then follow the direction of "Buchille" after crossing a small bridge.
Continue the forest road to the terminus of the Chalets de la Buchille.
GPS Coordinates (WGS 84) of the Starting Point: 46.278917, 6.574195
Ascent
From La Buchille, turn left onto the paved road to the Chalets du Pertuis. The footpath goes up slowly and runs along the mountain pastures at the foot of Mont Billiat on the right. Arrived at the Chalets du Pertuis, the view overlooking the Rochers du Jotty and Tête Blanche is impressive.
With Grande Pointe des Journées on the left, the climb continues along the relatively steep path that runs to the right following the fence. The route becomes steeper as it bypasses the very steep face of Mont Billiat. A short passage equipped with chains and cables allows proceeding on the sloping trail.
The crest is now in sight, and a fork on the left leads naturally to the summit of Mont Billiat.
Be careful in the last few meters: the well-marked and safe hiking track can impress the hikers, but it is quite accessible, and it would be a pity to deprive yourself of the magnificent panorama on Lake Geneva and the surrounding peaks.
Descent
Take the same pathway as described above.
It is possible to reach La Buchille by following the ridges of Mont Billiat to the left. Be careful, the trail is very exposed, flirting with the heights in several places: I strongly discourage people with a fear of heights and hikers accompanied by children to proceed on this path.

Photos of Mont Billiat
Route
Download the route (KML) Download the route (GPX)
This post is also available in Français