Intermediate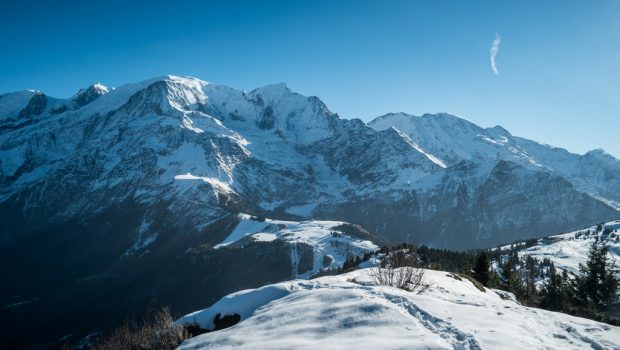 The Prarion
The Prarion, whose toponym evokes a "round meadow" or "ruined field," is undoubtedly a beautiful winter hike. Located at the end of the Chamonix valley, this summit will enchant the hiker with the splendor of the panorama unveiled on Mont Blanc, Aiguilles Rouges, Fiz, and Aravis Range. The itinerary requires a good physical condition because of the elevation gain that is appreciably amplified during a snowshoe outing. If the first part of the ascent to the Chalet des Anglais follows the trail used in the summer, the second part in the direction of the summit follows a marked ski trail but not described on the map.

Difficulty: Intermediate
Altitude: 1,969 m
Ascent: 2 hours 20 min
Descent: 1 hour 30 min
Elevation Gain: 840 meters
Round-trip: 7.0 km
Map: IGN 3531 OT
Getting There
Get to Saint-Gervais-les-Bains and follow the Rue de la Vignette leading to the place "Les Toiles. " Park in the parking lot to the left of the road.
GPS Coordinates (WGS 84) of the Starting Point: 45.897148, 6.723259
Ascent
From the parking lot, take the rather steep path up towards the Prarion. Very soon, this pathway will get into the forest and describe several switchbacks to lead to Plancert's ski lift. From there, it will be necessary to cut the ski slope; First, get to the Chalet des Marillières located to the right of the ski lift, then continue climbing along the track on the right. After about 500 m, cross the track and the ski lift to reach the trail entering the forest. In about a few minutes, you can reach the Chalet des Anglais and Chamois's ski lift, which offers a beautiful view of Mont Joly and the Aravis Range. From there, follow the track somewhat off the ski slope, then a few meters further, turn left to attack the ascent of the Prarion. The track allows getting to the summit in about thirty minutes.
Descent
Take the same route as described above.

Photos of The Prarion
Route
Download the route (KML) Download the route (GPX)
This post is also available in Français