Hard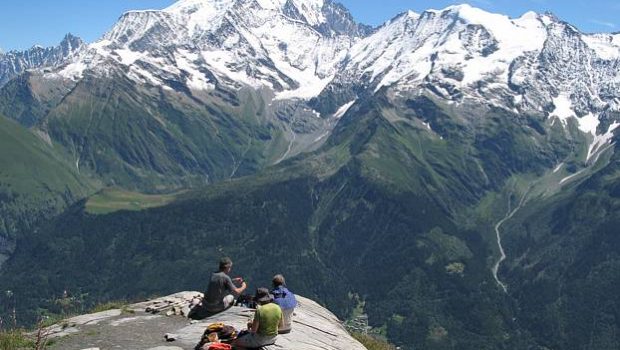 Mont Joly
Well visible from the Sallanches Valley, Mont Joly is a real observatory on the Mont Blanc Massif as well as the surrounding massifs, such as the Aravis Range or the Vanoise Massif.
Like the peaks of the Italian Val Ferret, Mont Joly and its panorama on Mont Blanc will give the same sensations of euphoria to the hiker.
Smooth and gentle up to the Pavillon du Mont Joly, the path becomes steeper as it climbs the slope of Mont Joly by "L'Épaule" or "La Panse. " However, the last ascent to the summit after Mont Joly's chairlift is less demanding.

Difficulty: Hard
Altitude: 2,525 m
Ascent: 2 hours 50 min
Descent: 2 hours 00 min
Elevation Gain: 1,120 meters
Round-trip: 13.2 km
Map: IGN 3531 OT
Getting There
Reach the hamlet of Planay by Megève, following initially the signs indicating the Altiport and the "Côte 2000. " In the hamlet of Maz and Planellet, follow the signs "Planay" leading to the road and the hamlet of the same name.
GPS Coordinates (WGS 84) of the Starting Point: 45.831388, 6.658882
Ascent
From the Planay car park, take the path that runs along the edge of the "Hermance" forest. This trail rises gently and passes through the Chalets de la Grande Combe, de la Coule, and then gets through the wood of Hermance to arrive at the eponymous chalets finally.
From Hermance, Proceed to reach the pass visible further.
From the pass, turn right towards the Pavillon du Mont Joly. There, two variants are proposed: – either get to the summit by "L'Épaule" along the ridge allowing to observe the Mont Blanc; – or to pass through "La Panse" under the crest. The difficulty and the timing are the same, but I have a preference for the option by "La Panse," much less used than the former.
Arriving at the Mont Joly chairlift, continue in the direction of the summit, on a more stony path.
Descent
Take the same route as described above.

Photos of Mont Joly
Route
Download the route (KML) Download the route (GPX)
This post is also available in Français