Intermediate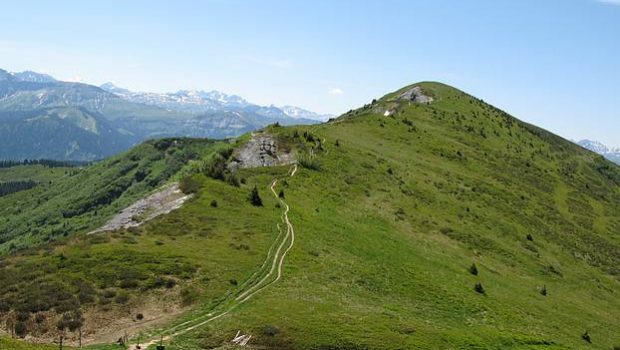 Petit and Grand Croisse Baulet
Visible from Sallanches, Croisse Baulet is a stroll of choice that will provide the hiker with one of the most beautiful views of Haute-Savoie as one can contemplate the Mont Blanc Massif, the Aravis Range, and the Fiz Massif.
The itinerary is within reach of all. Petit Croisse Baulet, below, offers a glimpse of the panorama observable from the top of Grand Croisse Baulet.
The steep final climb, which begins at the Col de l'Avenaz, is the only real difficulty of the hike that can put off the less trained.

Difficulty: Intermediate
Altitude: 2,236 m
Ascent: 2 hours 30 min
Descent: 1 hour 30 min
Elevation Gain: 860 meters
Round-trip: 11.3 km
Map: IGN 3531 OT
Getting There
Get to Megève. In the village, follow the direction "Télécabine du Jaillet. " Arriving at the gondola lift, follow the road to the right until the parking lot of the Ball Trap.
GPS Coordinates (WGS 84) of the Starting Point: 45.872616, 6.584327
Ascent
From the car park, take the small track that gets into the forest signposted by a beacon with a bird – a Tetras – (alternative route indicated in blue on the IGN map). The green route on the map takes the ski slope for about 200 meters. After a right turn, take the path to the left of the pathway entering the wood.
You quickly reach the Chalet des Frasses where a drinking trough is available. From there, follow the footpath marked "Col de Jaillet. " At a Y-shaped bifurcation leave the trail identified by the Tetras and turn right on the track marked "P1."
The path will leave the forest to flatten out up to the Col de Jaillet.
From the Col de Jaillet, follow the direction of "Grand Croisse Baulet" that will rise more frankly. Petit Croisse Baulet is won in about thirty minutes by a footway along a vast and impressive valley.
From the top of Petit Croise Baulet, a pleasant descent allows regaining strength and gets to the Col de l'Avenaz for the final climb.
The peak, visible from the pass, is reached in approximately forty minutes after a relatively steady climb.
The overlook erases all efforts; Wherever the gaze arises, you can only admire all the summits offered to your eyes: the Aravis Range, on the one hand, observable in the smallest details, on the opposite, the Mont Blanc Massif, and on the right, the peaks of Savoie.
Descent
Take the same route as described above.

Photos of Petit and Grand Croisse Baulet
Route
Download the route (KML) Download the route (GPX)
This post is also available in Français