Easy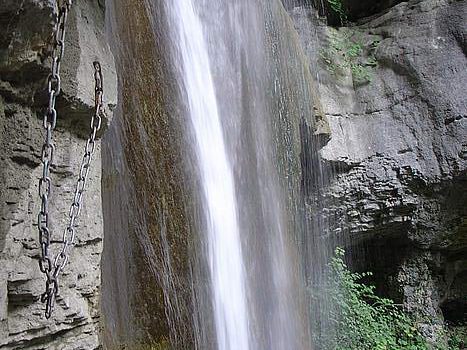 Waterfalls of Angon (Cascades d'Angon)
This outing is an ideal easy walk on a hot summer day, as the route exclusively takes place in the forest.
The site of the Waterfalls of Angon (Cascades d'Angon) allows discovering a vast canyon by a very well-equipped trail with barriers and chains. The large waterfall of 35 m at the bottom of the canyon is a renowned spot for canyoning enthusiasts.
Within reach of everyone, this hike is safe, but you have to be careful in the last part of the track because the splashing of water makes the path very slippery in places; Do not hesitate then to use the handrails.

Difficulty: Easy
Altitude: 714 m at the Pont des Fées
Ascent: 1 hour 00 min
Descent: 0 hour 40 min
Elevation Gain: 330 meters
Round-trip: 4.0 km
Map: IGN 3431 OT
Getting There
From Annecy, get to Talloires by the D909 road, which runs along the lake. Continue after Talloires for about 1 km, and turn left towards Angon.
The trail is to the left when reaching the house number 234. It's possible to park along the road after the bridge.
GPS Coordinates (WGS 84) of the Starting Point: 45.828193, 6.223179
Ascent
Take the trail to the left of the road in front of the house n ° 234. This path goes up fairly steeply in the forest until a small plateau where you can observe Lake Annecy and the peninsula of Duingt. Follow the pathway towards the cascades to a metal barrier that marks the start of the canyon.
The ambient humidity makes the footpath slippery in places. Continue to a steep left turn that descends under the cliff. After a final effort to get through a short passage equipped with chains, you arrive next to the impressive waterfall of Angon.
You have to turn back to the metal barriers to reach the Pont des Fées. Turn right towards Rovagny. After a climbing wall on the left, the path divides: take the track that goes down to the right and follow it until the Pont des Fées, which dominates the waterfall.
Descent
Take the same route as described above, or continue this path that forms a loop and leads back to the starting point.

Photos of Waterfalls of Angon (Cascades d'Angon)
Route
Download the route (KML) Download the route (GPX)
This post is also available in Français