Easy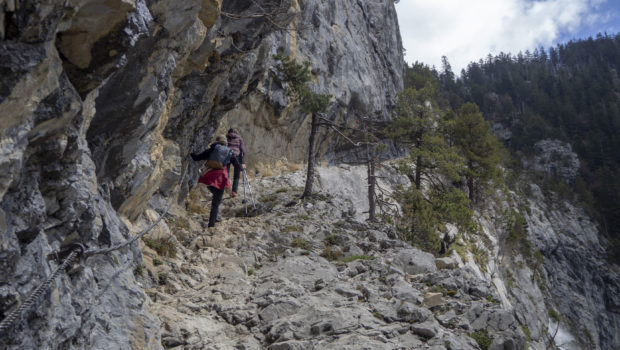 Le Pas du Roc
The Pas du Roc is the subject of a walk that allows hikers to discover the mountain pastures by means of an unusual footpath on the cliffside, traced in 1830, which allowed the wood to be transported to the ovens located in the hamlet of "La Verrerie".
I propose here a relatively short route that climbs quite steeply in its first part to reach the Pas du Roc and its waterfall a little further away. Then, the profile of the route flattens out when it arrives in the Champ Laitier mountain pasture, whose toponym probably refers to a field where dairy cows used to graze. The only difficulty of this hike is at the level of the path dug on the cliff just before the Pas du Roc. In fact, the trail is vertiginous for about 200 metres and can be tricky in case of rain or when the snow melts. However, this passage is secured by wooden steps and a cable fixed to the rock. In any case, I strongly recommend that you do this outing only in dry weather.
Finally, due in particular to the presence of spruce grouse and the sensitive nature of the fauna in the area, dogs are only tolerated if they are kept on a leash.
Difficulty: Easy
Altitude: 1,409 m at the Chalet du Plan
Ascent: 1 hour 30 min
Descent: 1 hour 30 min
Elevation Gain: 660 meters
Round-trip: 7.5 km
Map: IGN 3430 OT
Restrictions : Dogs allowed on a leash
Getting There
From Thorens-Glières, go towards Usillon. Continue to a small stone bridge in a right turn after Usillon and Nant-Sec. It is possible to park the car on the right side of the road.
GPS Coordinates (WGS 84) of the Starting Point: 45.969376, 6.298797
Ascent
The start is located a little before the stone bridge. The path is indicated by a wooden sign and goes up in the forest by describing several turns. Soon, one reaches the Pas du Roc passage and its path dug right into the cliff with the arch through which one must pass. Wooden steps and a cable secure the ascent. Further on, one crosses a footbridge over the waterfall visible from the road at the beginning. The trail now continues through the forest, following the Nant des Brassets to a rocky arch that leads to the vast Champ-Laitier mountain pasture, the starting point for longer hikes, such as the Montagne Sous-Dine or the Roche Parnal. Continue on the pathway to finally reach the Chalet du Plan.
Descent
The descent is done by the same route. It is imperative to use the cable for the path against the cliff, especially when the pathway is wet.

Photos of Le Pas du Roc
Route
Download the route (KML) Download the route (GPX)
This post is also available in Français