Easy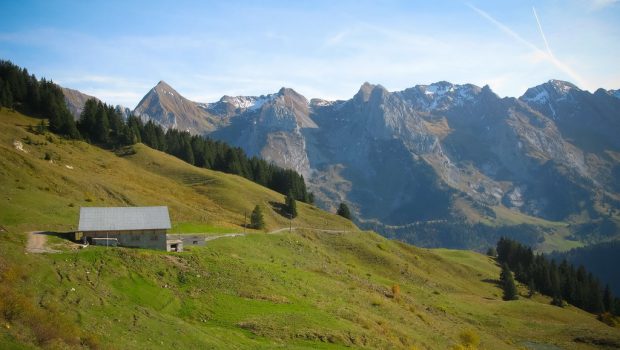 Mont Lachat de Châtillon
Autumn is the opportunity for the hiker to rediscover the massifs under a new eye. Covered with a colorful dress on which is reflected the soft light of the day, the slopes irradiate in all points the sight and let see prospects of a deep calm on the surrounding peaks. Located upstream of Grand Bornand between the Bargy Massif and the Aravis Range, Mont Lachat de Châtillon remains a good objective at the end of the season. Without difficulty, the route is done in two stages: if the first half to the Col de Châtillon constitutes a gentle warm-up, the ascent of the summit on the ski slope proves to be considerably steeper. Anyway, the panorama served at the peak on the Aravis, Bornes, Beaufortain and Haut-Giffre Massif, will inevitably reward the efforts provided.

Difficulty: Easy
Altitude: 2,050 m
Ascent: 1 hour 30 min
Descent: 0 hour 40 min
Elevation Gain: 630 meters
Round-trip: 8.8 km
Map: IGN 3430 ET
Getting There
From Le Grand Bornand, take the D 4 road towards Le Chinaillon. A little before the entrance of the village, turn right on a small road leading to the "Outalays." Go beyond the locality, and come to park in the parking lot of La Côte, starting point of many chairlifts.
GPS Coordinates (WGS 84) of the Starting Point: 45.959609, 6.457634
Ascent
From the car park, follow the accessible path along Col de Châtillon ski lift. Shortly after, the pathway, well signposted, branches off to the left and gets into the woods. At an intersection, leave the left path going down to the farm. Quickly, the footpath leaves the forest and winds its way through the plain to the Col de Châtillon where you will appreciate the view of the Aravis mountains. From there, leave the right path going down to the Chalet de Châtillon and continue the steep ascending track in the direction of Mont Lachat reached in about thirty minutes.
Descent
Take the same road as described above.
Photos of Mont Lachat de Châtillon
Route
Download the route (KML) Download the route (GPX)
This post is also available in Français