Very Easy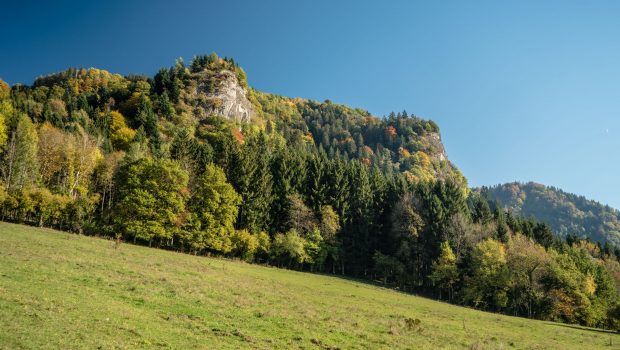 Meulières du Mont Vouan
Located in the municipality of Viuz-en-Sallaz, the Mont Vouan site includes a group of seven millstone quarries classified as historical monuments on 11 March 2009. Exploited from the late Middle Ages to the end of the 19th century, these milling mills bear witness to a very active industrial activity and remain unique in south-eastern France as some of them extend over several hundred metres.
The loop that I propose here joins the "Meulières à Vachat" then comes back on its steps to go up to the "Meulières de Grande Gueule". The route is very easy since it does not exceed 400 m of cumulative gain and is not dangerous. It is worth noting the presence of a small steep passage just before the Meulières de Grande Gueule, but it's secured by a barrier.
Difficulty: Very Easy
Altitude: 778 m at the Meulières de Grande Gueule
Route: 1 hour 30 min
Elevation Gain: 370 meters
Round-trip: 5.9 km
Map: IGN 3429 ET
Getting There
From Geneva, take the D907 road to Pont de Fillinges. Once you arrive in the village, turn left towards Boëge. After about one kilometre, turn right on a fairly steep road going down to the Pont Morand. Cross the bridge and continue on the road to park at the "La Source qui Rit" car park.
GPS Coordinates (WGS 84) of the Starting Point : 46.164855, 6.37566
Route
From the car park, take the path on the left-hand side of the road, going into the plain. After a few minutes of walking, the path joins the intersection with the road leading to the Meulières de Grande Gueule. Continue straight ahead to reach the "Ru du Premier Trou" then the "Gouille aux Morts". A little further on, at the crossroads of "La Pierre au Mort", turn right to go up to the Meulières à Vachat joined in about ten minutes. To get to the Meulières de Grande Gueule, you just have to go back on your steps and turn left at the intersection at the beginning of the route just after the car park "La Source qui Rit". The trail crosses the plain to get back into the forest. The last ascent to the Meulières de Grande Gueule is somewhat steep, but a barrier helps climbing. To return to the car park, leave on the right the path crossing the plain and follow the direction of "La Source qui Rit" as indicated by the sign.
Photos of Meulières du Mont Vouan
Route
Download the route (KML) Download the route (GPX)
This post is also available in Français