Easy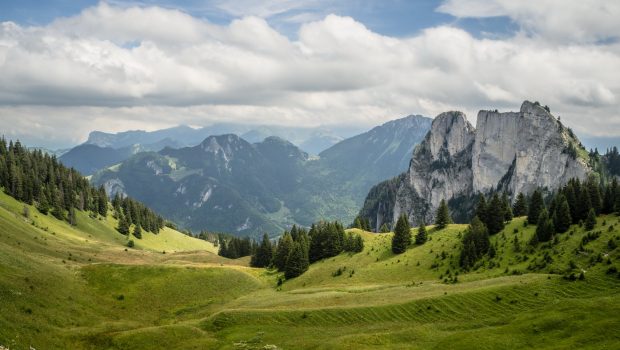 Grande Pointe des Journées
Grande Pointe des Journées, whose name derives from the word "journal" and designates the area of land that can be worked in a day 1, is a summit of the Chablais Massif culminating at 1,722 m. Located north of Mont Billiat, Grande Pointe des Journées can be the object of a beautiful excursion on a lovely summer afternoon. Without difficulties, the itinerary starts from the Chalets de la Buchille then takes a long track to reach the Chalets du Pertuis before rising a bit to win the top. Like most summits of the Chablais, one can observe Lake Geneva as well as the Jura from the peak.

Difficulty: Easy
Altitude: 1,722 m
Ascent: 1 hour 15 min
Descent: 0 hour 45 min
Elevation Gain: 260 meters
Round-trip: 4.7 km
Map: IGN 3428 ET
Getting There
Reach Bellevaux via the D26 road from St-Jeoire. In the center of Bellevaux, turn right towards the "Bossons" then follow the direction of the "Buchille" after crossing a small bridge. Continue the forest road until the end of the road at the Chalets de la Buchille.
GPS Coordinates (WGS 84) of the Starting Point: 46.278886, 6.574272
Ascent
From La Buchille, turn left onto the trail to the Chalets du Pertuis. The path goes up slowly and runs along the mountain pastures at the foot of Mont Billiat on the right. Once arrived at the Chalets du Pertuis, the view overlooking the Rochers du Jotty and Tête Blanche is impressive. Follow the direction to Grande Pointe des Journées as indicated by the sign. The path rises gently in a grassy slope and reaches the summit in about fifteen minutes.
Descent
Take the same road as described above.

Photos of Grande Pointe des Journées
Route
Download the route (KML) Download the route (GPX)
Download the KML file of the hike
Buord, Jean-Philippe. Origin of the names of the mountains of Haute-Savoie. Annecy: Color Verba Edition, 2015, p.194 ↵
This post is also available in Français