Very Easy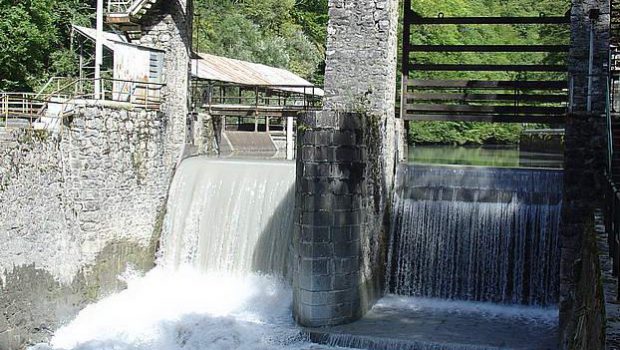 Pont du Diable (Mieussy)
The Pont du Diable is a nice little walk near Mieussy as it allows discovering the Giffre in a small valley.
Under the bridge, the Gorge du Giffre is four meters wide, nine meters deep. It is the ideal ground for the practice of canyoning, kayaking, or sports fishing.
The hydroelectric dam, operated by EDF, was built in 1897 and renovated in 1957. It was used to supply electricity to the furnaces of the former factory of the Giffre de Péchiney, specialized in metallurgy. The fall exploits the flows discharged from the Taninges dam (minimum flow rate of 550 l / sec). Annual production reaches 10.9 million kWh.
In Mieussy, a stop at the Fruitière des Hauts-Fleury is essential to discover regional products. Attending the cheese making is also possible.

Difficulty: Very Easy
Altitude: 589 m
Route: 0 hour 20 min
Elevation Gain: 30 meters
Round-trip: 1.6 km
Map: IGN 3429 ET
Getting There
From Annemasse, take the direction of Taninges. At the entrance of Mieussy, turn right towards Dessy-Ivoray. After 200 m, follow the small road on the right marked "Gorge du Diable" and park in near the sanctuary.
GPS Coordinates (WGS 84) of the Starting Point: 46.129080, 6.515827
Route Description
To reach the dam, take the path to the right after the bridge for about ten minutes.

Photos of the Pont du Diable
Route
Download the route (KML) Download the route (GPX)
This post is also available in Français