Intermediate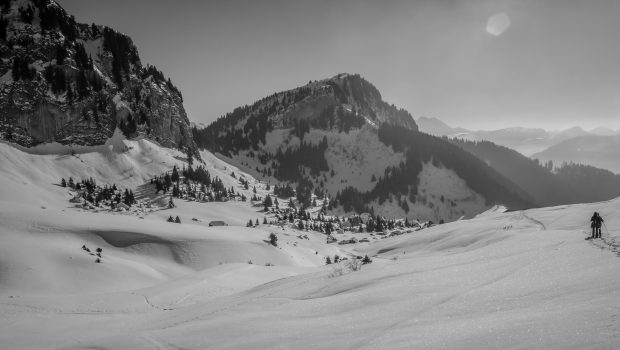 Crête des Rasses
Little known by walkers because of its off-centered location in relation to the ski resort of Praz de Lys Sommand, Crête des Rasses nevertheless remains a nice hiking objective with its panorama on Haute Pointe, Pointe de Rovagne, but also Montagne d'Hirmentaz. Without difficulty, the itinerary gently rises in the forest to reach the Chalet de Vérage then the Charmettes d'en Bas. The path winning the ridge from the Planet is nonexistent, but the ascent remains obvious since there are no obstacles on the course.

Difficulty: Intermediate
Altitude: 1,659 m
Ascent: 1 hour 40 min
Descent: 1 hour 00 min
Elevation Gain: 640 meters
Round-trip: 6.1 km
Map: IGN 3429 ET
Getting There
Attain Mieussy and then head towards the resort of Praz de Lys Sommand. Park in the last switchback on the right just before the snowsheds located a little further.
GPS Coordinates (WGS 84) of the Starting Point: 46.160567, 6.522357
Ascent
Turn right on the road towards Vérage. Then continue in the direction of Les Charmettes. The itinerary rises gently through the forest until you see the first chalets of the Charmettes d'en Bas. Shortly before arriving at the chalets, turn left on the trail going up to the chalet du Planet offering a beautiful view of Haute Pointe, Pointe de Chavasse, and the Col de Cordon. Just before the first chalet, turn right to take the path leading up to Crête des Rasses, visible from the chalets. The route is unmarked, but the progression remains obvious. The ridge is reached in about twenty minutes.
Descent
From the summit, go to the right and descend along the ridge without getting too close to the edge of the cornice. The trail leads to the Charmettes d'en Haut that you circumvent by going left to reach the itinerary previously taken.

Photos of Crête des Rasses
Route
Download the route (KML) Download the route (GPX)
This post is also available in Français