Very Easy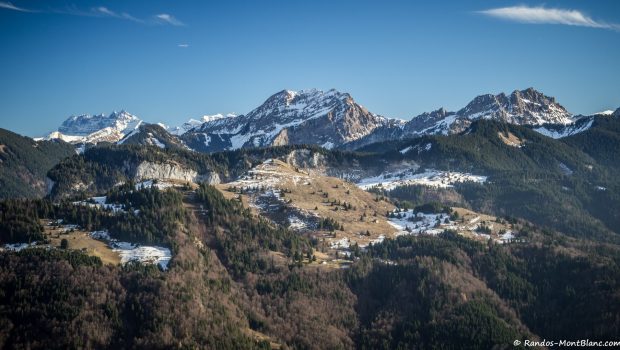 Montagne d'Hirmentaz
Known in winter as a playground appreciated by skiers located a stone's throw from Lake Geneva, Montagne d'Hirmentaz is a very nice hiking objective for beginners or a final autumn hike. Easily accessible, Montagne d'Hirmentaz, whose name comes from the old French "herm" designating an "uncultivated land," is a belvedere of choice on Mont Blanc, the Aravis Range, and the Chablais Massif and remains less frequented than Pointe de Miribel just opposite. Be careful once you arrive at the Chalets du Paccot to take the road to the left of the fence since the passable track goes to the hamlet of Haut-Frélon below the summit.

Difficulty: Very Easy
Altitude: 1,598 m
Ascent: 0 hour 55 min
Descent: 0 hour 45 min
Elevation Gain: 380 meters
Round-trip: 4.9 km
Map: IGN 3429 ET
Getting There
The car park is located at the end of the "Chemin rural de la Glappaz" in "La Lanche" hamlet. From Habère-Poche, take the D22 Road towards Bellevaux. After a first big curve on the left, turn right on the road indicated by signs mentioning "La Glappaz – Les Grampes." this pathway leaves Hirmentaz's departure station of the chairlift and continues on the right with several switchbacks. After a few hundred meters, the road reaches the hamlet of Glappaz. Park at the end of the rural road just before the right switchback.
GPS Coordinates (WGS 84) of the Starting Point: 46.222468, 6.477214
Ascent
At the parking lot at the end of the "Chemin rural de la Glappaz" in "La Lanche" hamlet take the path leading to the Col du Creux as indicated by a sign. The trail, relatively straight, is easy and gradually reaches the Col du Creux. From there, go left to leave the Chalets de Sur le Creux on the right and arrive at Chalets du Paccot situated at the foot of Montagne d'Hirmentaz. The slope rallying the summit is taken on the left of the fence. The ascent is quite abrupt, but some switchbacks help the progression. After about thirty minutes, the peak is won.
Descent
Take the same path as described above.
Photos of Montagne d'Hirmentaz
Route
Download the route (KML) Download the route (GPX)
This post is also available in Français