Intermediate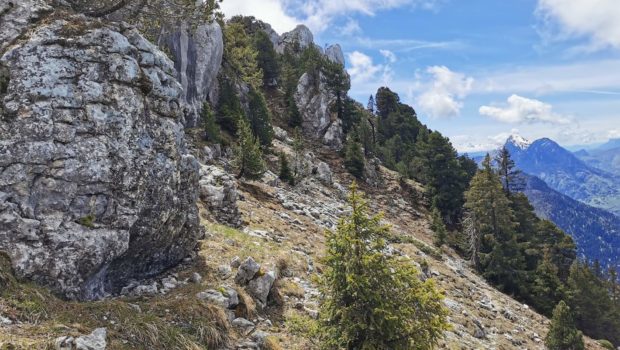 Roc des Boeufs
The Roc des Boeufs is located at the northern end of the Massif des Bauges on the western shore of Lake Annecy.
The walk to the Roc des Boeufs should be done in dry weather as the climb through the forest can be very muddy and the arrival at the summit can quickly become very slippery. The ridge gives the right to discover a majestic view of the whole of Lake Annecy, the Mont-Blanc massif, the Aravis (notably Tournette) as well as many summits of Savoie.
I would like to point out that the ridge at the top of the Roc des Bœufs is vertiginous and that there is not much room. Therefore, I do not recommend this hike to young children.
Difficulty: Intermediate
Altitude: 1,775 m
Ascent: 2 hours 15 min
Descent: 2 hours 00 min
Elevation Gain: 870 meters
Round-trip: 8.8 km
Map: IGN 3431 OT
Getting There
Go to Chapelle-St-Maurice, thirty minutes south of Annecy, and reach the car park by the Chemin de la Cudraz. There is no specific car park, but it is worth noting that there is a parking area just before the start of the path or immediately afterwards in a right-hand bend.
GPS Coordinates (WGS 84) of the Starting Point: 45.768660, 6.150705
Ascent
Take the well-marked path towards Créterny. From there, follow the path that climbs to the left towards the "Chalets du Sollier" as indicated by the signs. Then cross the meadow in the direction of the forest, following the signs. Once you reach the forest, be careful to turn right as indicated by the yellow arrow and follow the direction of the "Roc des Boeufs" and the "Chalets du Sollier". The path then rises in the wood until it reaches a large meadow where it branches off to the right onto a badly marked track. You then discover a better and better marked path that leads to the Chalets du Sollier, which you reach in 1 hour and 15 minutes from the car park.
From the chalets, head towards the watering hole. Leave the path marked "Roc des Boeufs" on the left and choose the unmarked path next to the watering hole, which goes right down the slope towards rocks topped with cairns. The path then becomes steeper and rocky to reach the foot of the ridge. The progression is indeed more difficult and the path becomes much steeper with short passages on smooth slabs. Once you reach a fork, you have two options: either follow the green markings on the right that lead to the summit, or continue to the left to reach a plaque erected in memory of a hiker.
Descent
Take the same path, being very careful from the top in the steepest part (don't hesitate to use your hands to help yourself).
Note, at the chalets du Sollier, the GAEC farm "Les Chardons Bleus" where hikers can buy a very good Savoy tomme.
Photos of Roc des Boeufs
Route
Download the route (KML) Download the route (GPX)
This post is also available in Français