Intermediate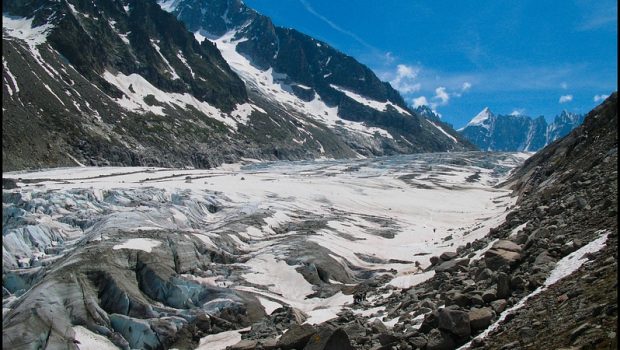 Glacier d'Argentière
Chamonix Valley has, since the middle of the eighteenth century, mainly captivated souls due to the magnificence and the grandeur of its mountains. Bordered by those high rocks getting close to the sky, its glaciers, immense tongues of ice with their anfractuosities, cannot leave insensible the mortals who came to observe them more closely.
Glacier d'Argentière will be the object of a first summer stroll; Lodged between Aiguille Verte and Aiguille d'Argentière, the glacier is one of the few glaciers in the valley to offer its wonders at the cost of a few shy efforts. The itinerary describes a loop of about ten kilometers under Montagne du Lognan, passing through the refuge of the same name and Grands Montets's cable car station.
The timidest, frightened by the prospect of a relatively steep final downhill in the Bois des Chosalets, can use the cable car to reach the car park.

Difficulty: Intermediate
Altitude: 2,168 m at the overlook
Ascent: 2 hours 50 min
Descent: 2 hours 00 min
Elevation Gain: 980 meters
Round-trip: 10.1 km
Map: IGN 3630 OT
Getting There
From Chamonix, continue along the road towards Argentière. About three kilometers after Le Lavancher, at the roundabout, take straight towards the Grands Montets gondola and the locality called "La Rosière. " Park one kilometer further on the spacious car park of the cable car.
GPS Coordinates (WGS 84) of the Starting Point: 45.978485, 6.926527
Ascent
From the car park of the gondola station, go left towards "Crèmerie du Glacier" and "Hélisurface" and then turn right on the broad well-marked slope. With no switchbacks at the beginning, the ascent is rather abrupt before a big curve to the right where turns will appear a little further, thus helping the progression.
After a few switchbacks, the path crosses the Torrent du Lognan through a metal footbridge.
After a large curve to the right, turn left onto the trail towards the Chalet du Lognan. The trail entering the forest is much more pleasant and undulates gently to the refuge reached in about twenty minutes.
Then, continue the footpath towards the "Refuge d'Argentière" and the "Point de vue. " The slalom trail along the glacier in large rock blocks to the overlook, the terminus of the trail.
Descent
Back down to the junction overlooking the glacier five minutes from the overlook where you turn left towards the "Croix du Lognan. " The trail easily descends on a piste to reach in less than one hour the intermediate station of Lognan's gondola.
Continue in the direction of Argentière, and, arriving at Tabe's chairlift, turn right towards the "Chosalets." (the path is also mentioned by a sign saying "Sentier piéton"). The path zigzags through the forest in a steeper slope and joins the hamlet of la Rosière then the parking lot in about an hour.
Photos of Glacier d'Argentière
Route
Download the route (KML) Download the route (GPX)
This post is also available in Français